GET HEALTHY

and

CHANGE your HABITS
with

DELICIOUS

FOOD

you are

EXCITED

to eat!  
THE ULTIMATE

60-DAY RESET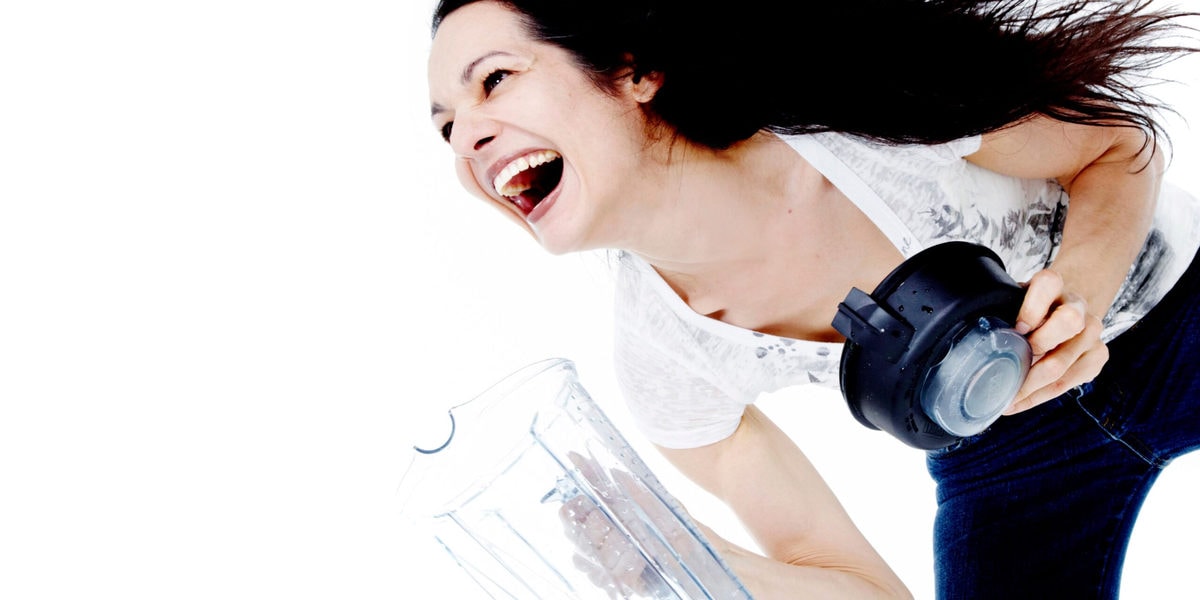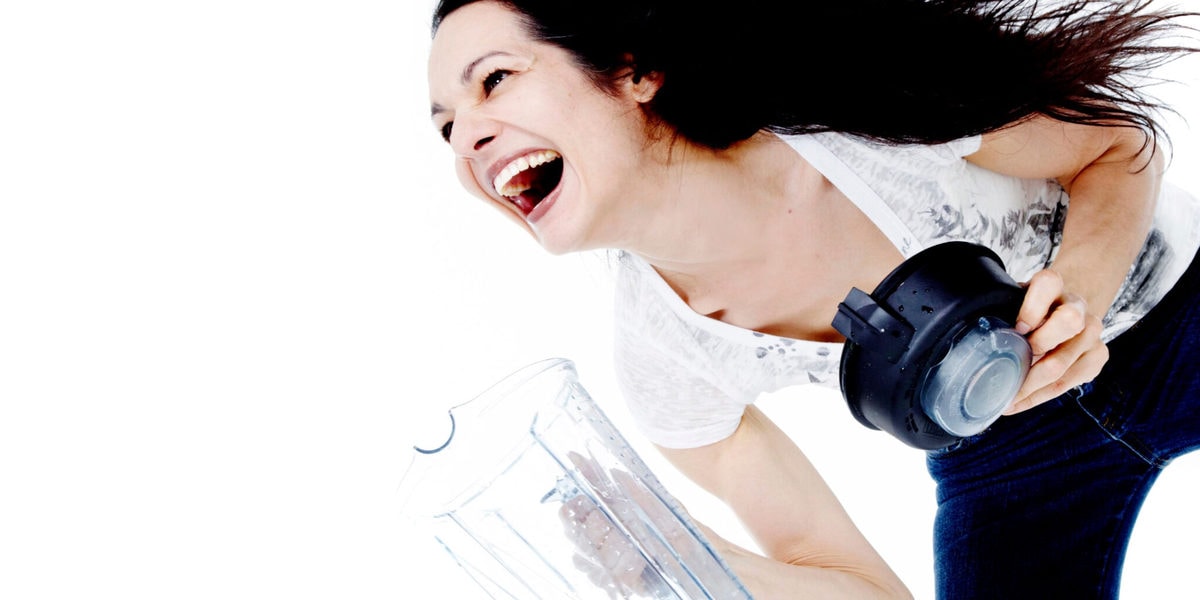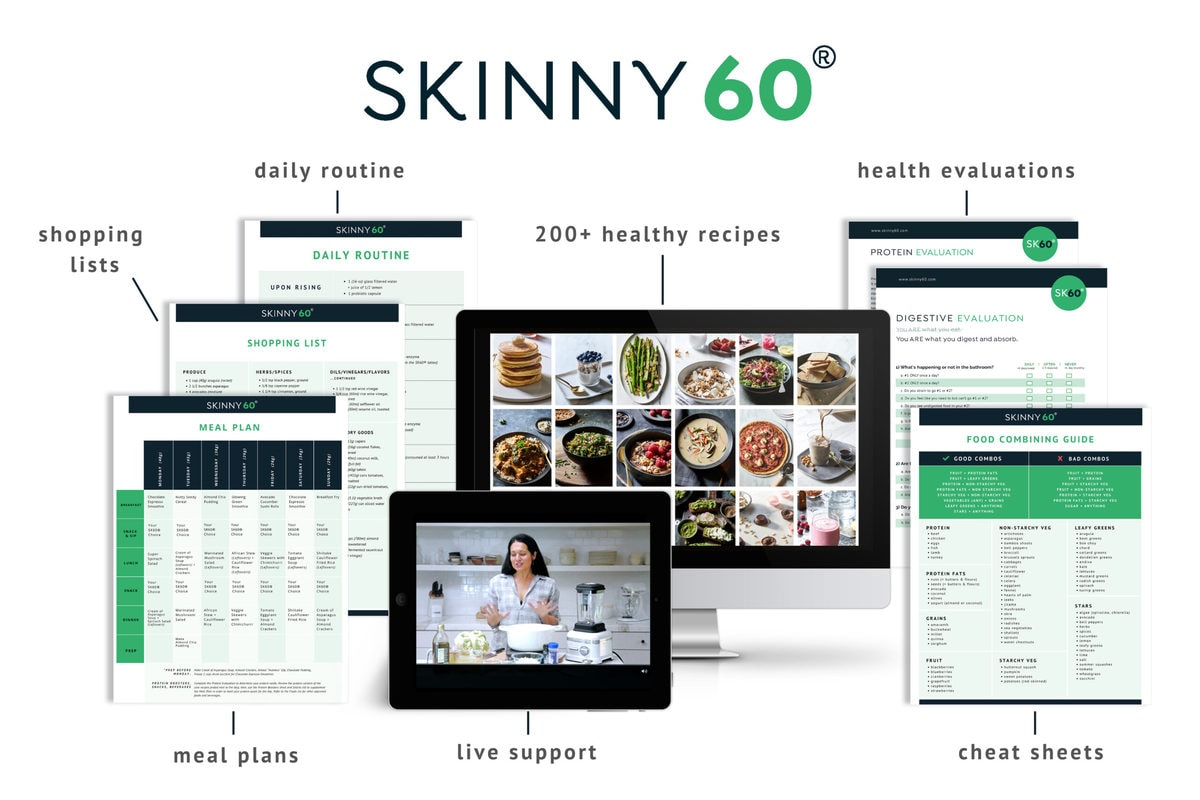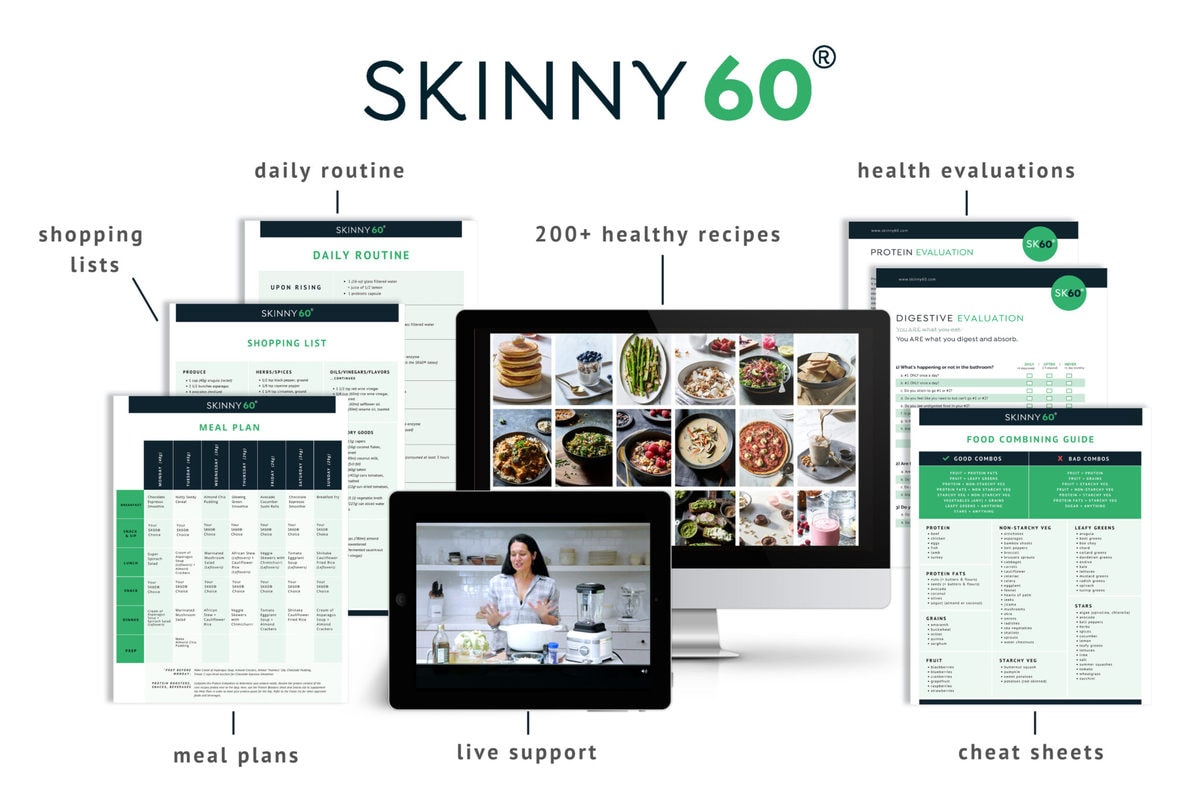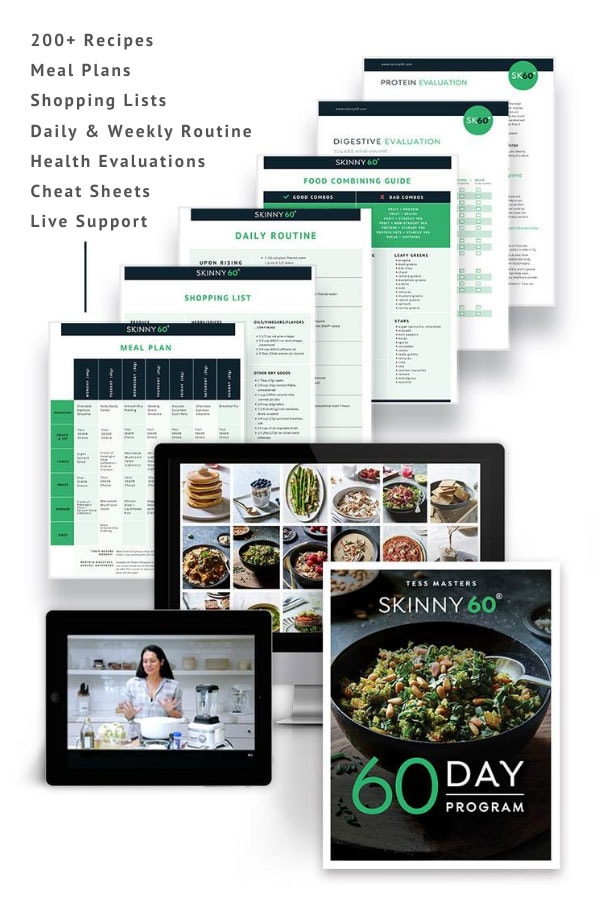 I LOST

35 POUNDS

USING THE

SKINNY60® SYSTEM!
And, I have helped thousands of other people get healthy and lose weight.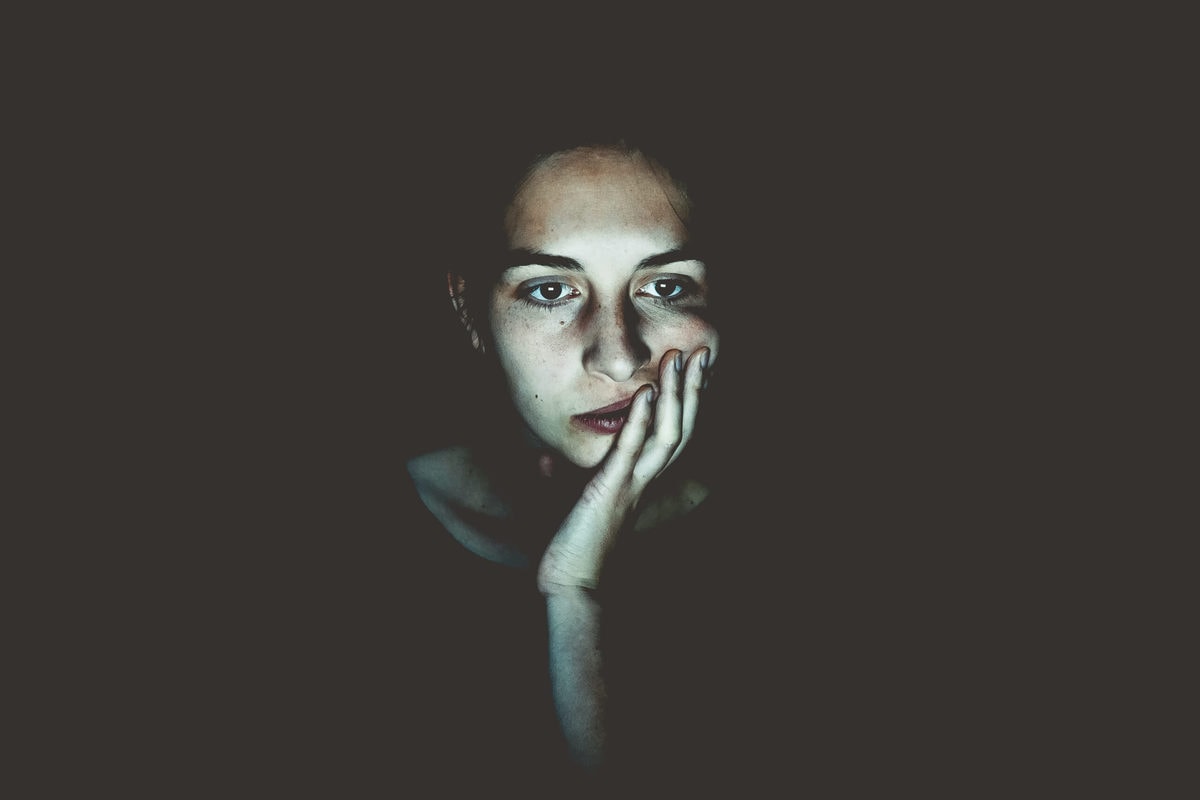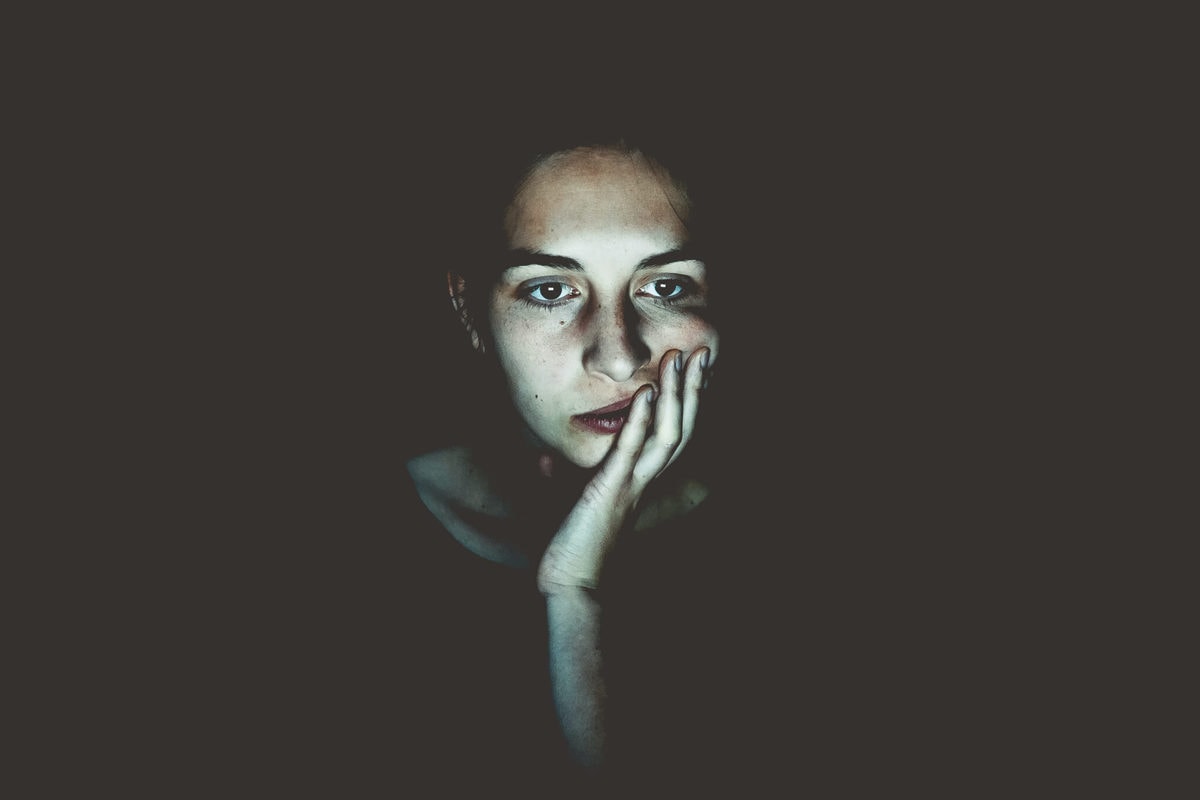 DOES THIS SOUND LIKE YOU?
I'm totally overwhelmed

with work and taking care of my family that I just don't have time to take care of myself.

I grab snacks and junk food

to fill up on the fly because it's quick and easy, and there is "not enough time" to eat healthy.

I feel bloated and tired

and need more energy to enjoy my life.
I've packed on the pounds

and I can't shake the muffin mound!

I'm sick of crappy diet food

and don't want to feel depressed.

I'm stuck on a yoyo diet spiral

and I need to find something that works!
Yeah...I've tried everything to lose weight and failed.
HOW is this different?
There are SO many programs promising "quick wins". Finding answers is EXHAUSTING, and it really feels like, "been there, done that, nothing is going to work!"
I've spent the last 30 years trying countless diets, and working with some of the most respected doctors and dietitians in the country to combine the BEST PROVEN STRATEGIES into a SIMPLE SYSTEM that really works!

in The Blender Girl community.

with Penguin Random House.

have used my programs to get healthy and lose weight.
My approach is the perfect blend of FUN and SCIENCE!
THIS IS NOT A DIET! (Life is too short)
Counting calories and carbs

Obsessing over your portion sizes

Weighing yourself every day

Feeling miserable and deprived
Eat a ton of delicious food

Combine foods smartly for better digestion

Use simple strategies to sleep better and have more energy

Dropping pounds in a healthy way

Have dietitians and a community to support you
The 60-Day Reset was created in consultation with respected dietitians and doctors using proven health strategies. Keep reading down the page for a step-by-step walk-through of exactly how the Skinny60® system will help you achieve better health and lose weight. 
Forget starving yourself on warped carrot sticks, wilted lettuce, and sludgy diet drinks that look and taste like the place where the plants came to die. That is NOT joyful or sustainable. My superpower is putting mind-blowing flavors together so vegetables taste decadent and delicious. So, you will be excited to eat healthy food, and never feel deprived. 
Who likes to go without? (No thanks!) The portion sizes are big to account for all appetites. You will not be hungry. In fact, many people have leftovers for snacks or to share with family and friends! 
YOU get to choose what you eat. Customize your meal plan each week using our nutrition software. Choose foods and recipes based on your budget, lifestyle, and what YOU like to eat.
IT'S FLEXIBLE - YOU CAN EAT OUT
If you're busy, don't want to cook, or are traveling, you can stick with the principles and totally eat out, make your own food, and enjoy yourself at a party. Skinny60® is designed so that you can follow the plan while enjoying the rest of your life.
We have a "Good, Better, or Best, NOT Perfect" philosophy in the community. There are no "failures". You just show up for yourself every day, and do the best that you can. If you "fall off the wagon",  relax. We're striving for progress, not perfection. Tomorrow is a new day, and we'll be there to support you. We celebrate every "WIN" in the group.
WE SUPPORT YOU EVERY STEP OF THE WAY
This is a LIVE experience. Everybody participates in the program together for nine weeks. So, you have a community of champions with the same goals. My team of registered dietitians and I are available to you for 60 days with live video calls and office hours every week, via emails, and in the Facebook group so you have a TON of support to make sure you get incredible results.
60 DAYS TO CHANGE YOUR HABITS!
The program is 60 days for three reasons: 

HABITS

It takes about 21 days to build a habit. You will implement new healthy practices and have time to turn them into new habits.

THE DIGESTIVE TUNE-UP

It takes between 4 to 8 weeks, depending on your health. Better digestion = better health = better weight loss.

REGULATE YOUR METABOLISM

 During the 60 days you will go through two hormonal cycles, and your hormones and metabolism are deeply connected. Metabolism isn't just about burning calories, it's about the way your body stores and uses energy from food. The food that you eat affects the production and secretion of hormones that regulate proper metabolic function.
The 60-Day Reset is the most effective way to change your eating habits so you can

get healthy

,

lose weight

, and maintain it for
JOIN THE NEXT LIVE GROUP AND WE WILL HELP YOU REACH YOUR GOALS
MARCH 29th - MAY 27th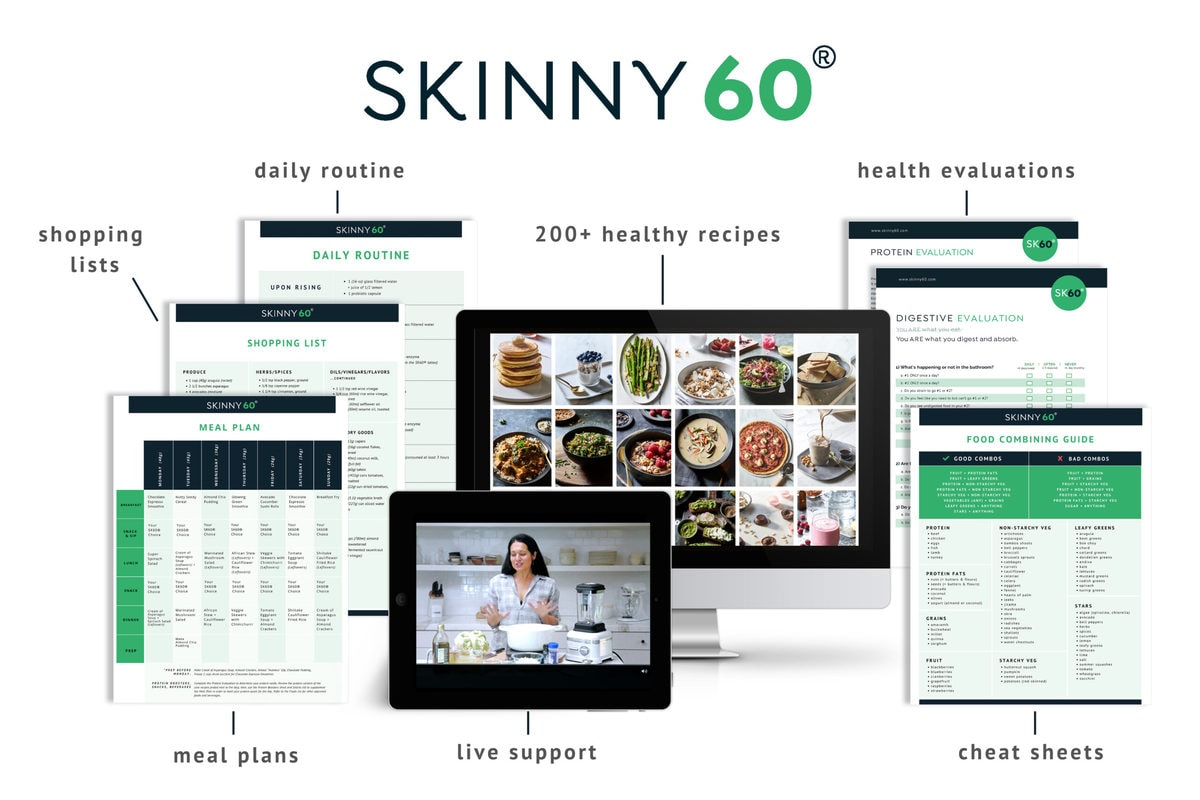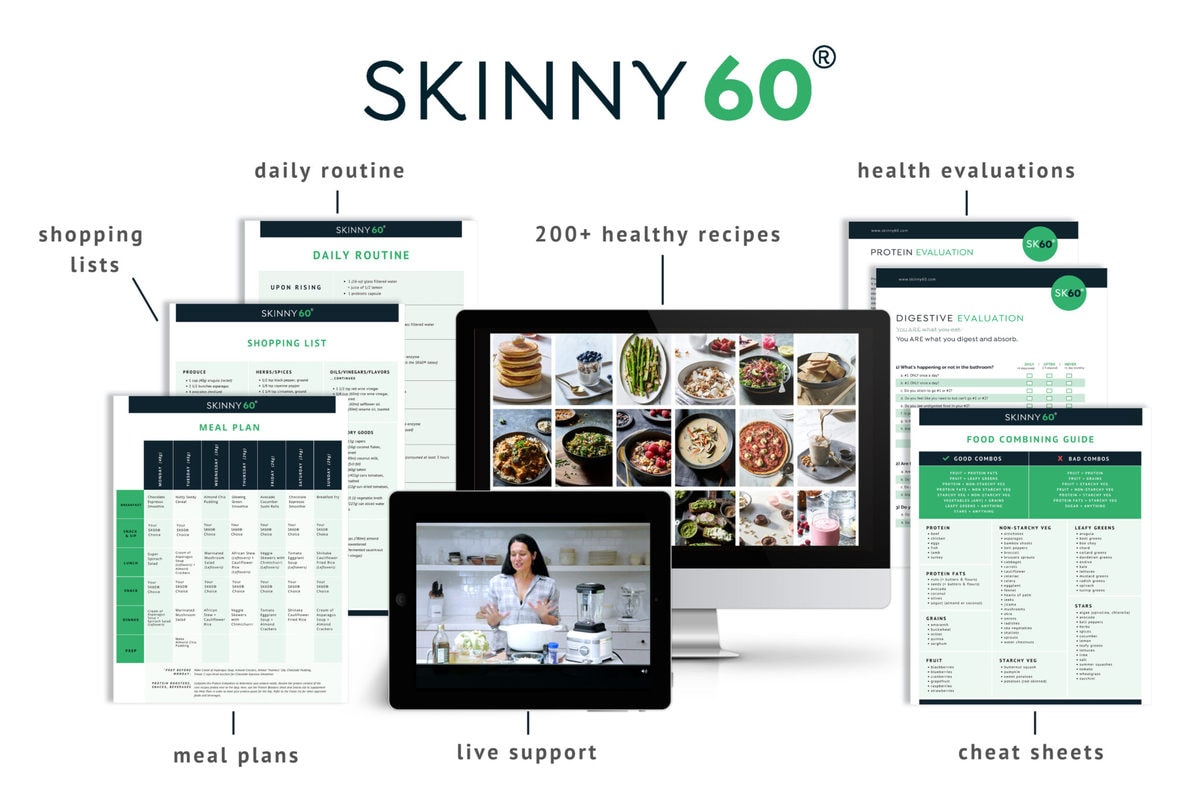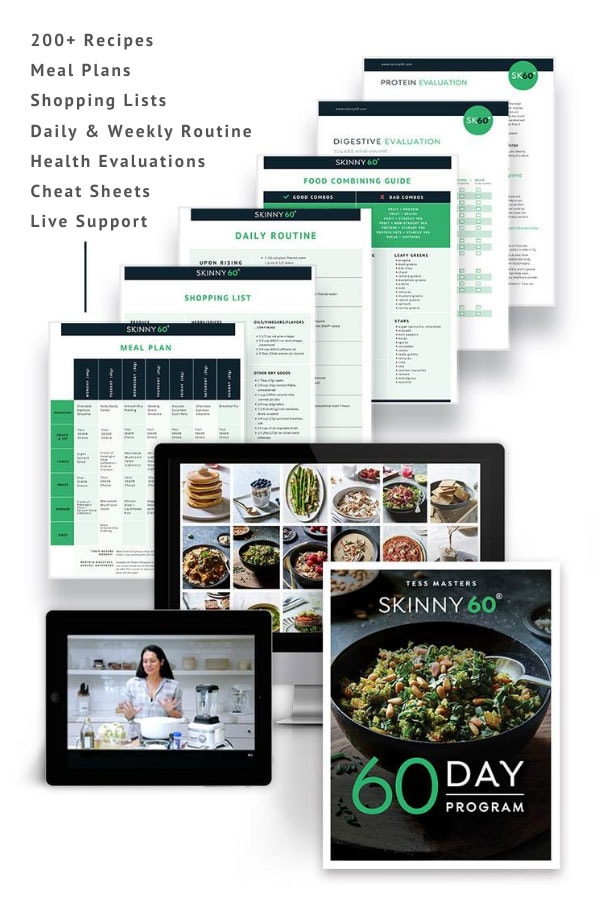 for only
LEARN HOW TO EAT SO YOUR BODY RUNS BETTER!
A SIMPLE SYSTEM

with proven strategies to help you achieve better health, lose weight, and get more energy. 
DIGESTIVE AND PROTEIN EVALUATIONS

to assess your current state of health, and determine what your body needs to run most efficiently so you can get the best results. 
OVER 200 EASY RECIPES

that taste delicious so you're excited, and don't feel hungry or deprived! 
MEAL PLANS

that strategically combine foods so you don't have to think about what to eat.
NUTRITION SOFTWARE

so you can completely customize your meal plan, drag and drop foods and recipes, and calculate your nutrient intake. 
GROCERY LISTS

that you can edit to make shopping a breeze. 
GUIDES AND CHEAT SHEETS

to make following the program easy.
A JOURNAL

to track your progress to discuss with your personal practitioner to make informed decisions during the program and beyond. 
LIVE SUPPORT

from registered dietitians, wellness experts, and chefs with live video calls, live kitchen tutorials, office hours, emails, and a private Facebook group. 
This STEP-BY-STEP SYSTEM gives you the TOOLS and STRATEGIES to:
lose weight

, get

more energy

, and
HOW IT WORKS

STEP BY STEP:
Plan, Shop, Follow the Routine
Eat Fabulous Food That Helps You:
Yum.... That all looks sooooo good!
RIGHT?! IT TASTES EVEN BETTER!
HERE'S WHAT IS ON THE MENU...
My team of dietitians and I will support you with:
Weekly Video Calls

with a registered dietitian for nutrition knowledge.  

Office Hours

to check in and ask questions.
Daily Email Guidance

to make it easy to stay on track.  

Private Facebook Group

to connect with your mentors and fellow participants. 
BONUS #2

Handy Cheat Sheets to Make Things Easy!
Improve your cooking skills with lessons on:
How to prep and store foods

to save time and maximize freshness.

How to pair ingredients

for fabulous flavor and presentation.
How to make healthy meals

that you and your family will love.

How to modify family favorites

to make healthier choices that are still fun! 
I want to help you win the weight loss war.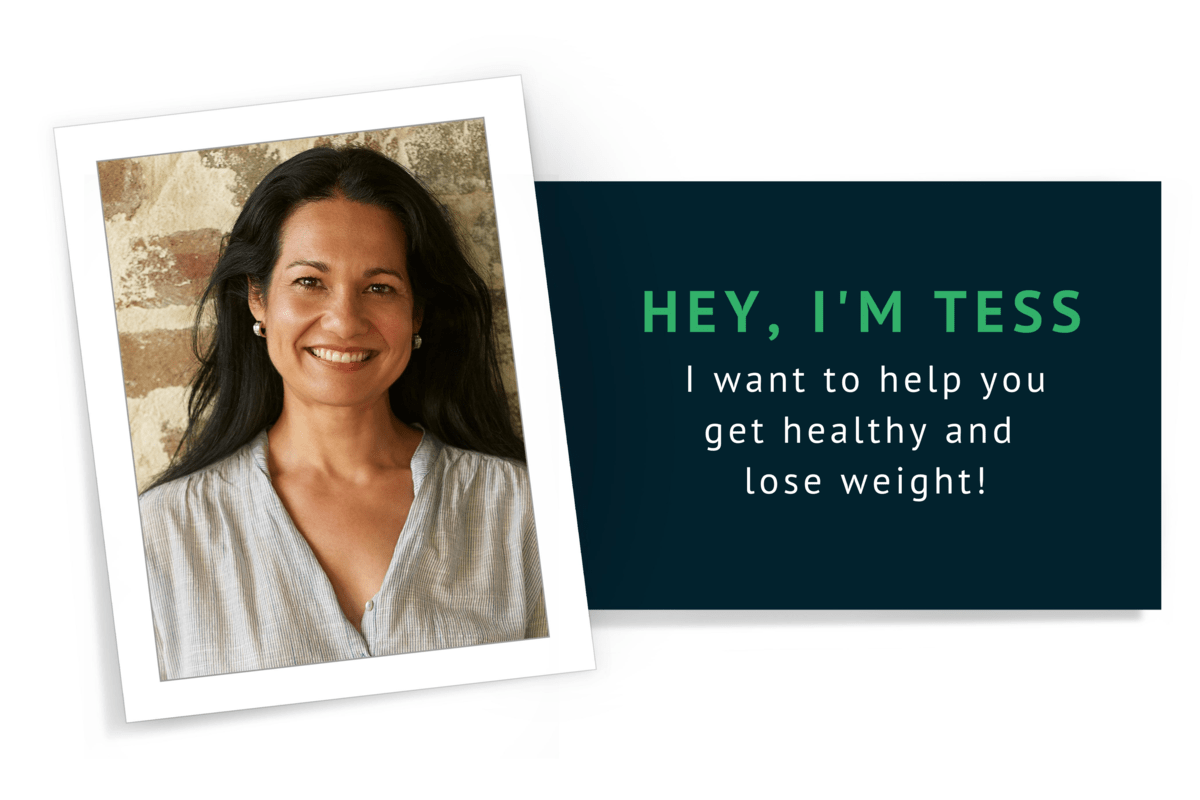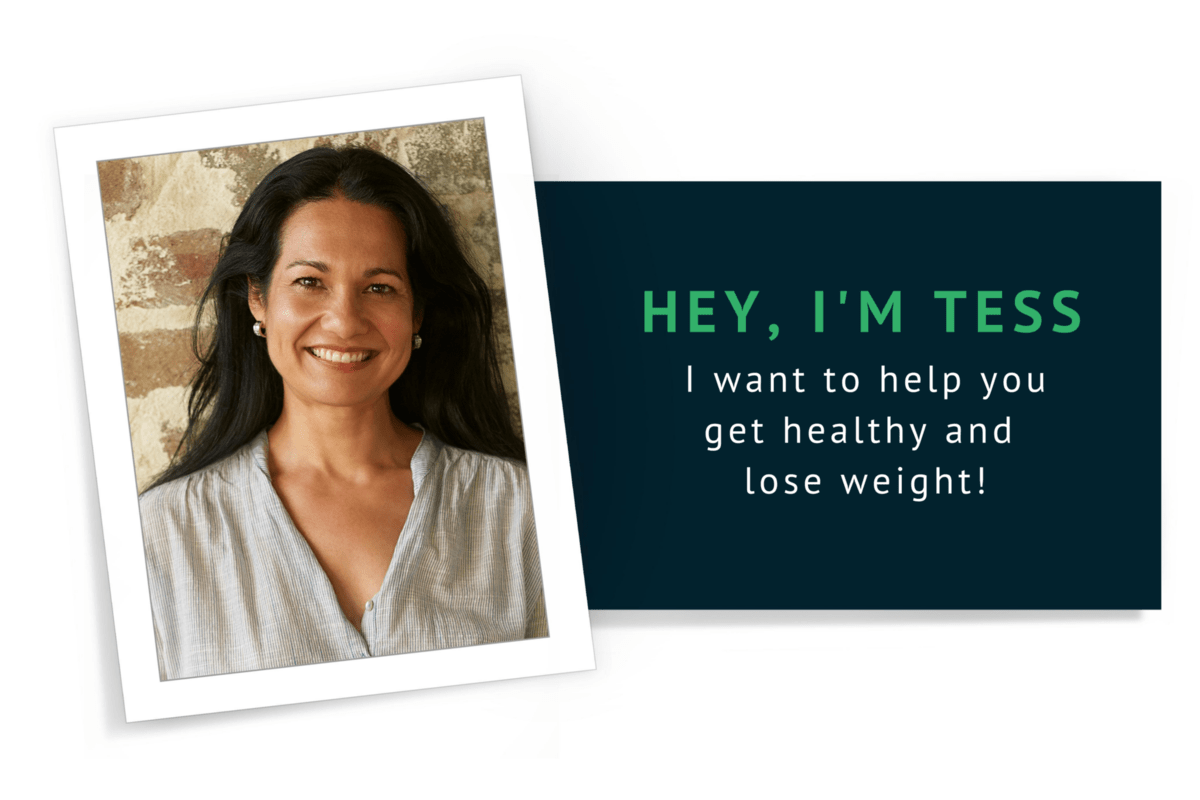 OK. LET'S RECAP:

WHAT'S IN THE 60-DAY RESET!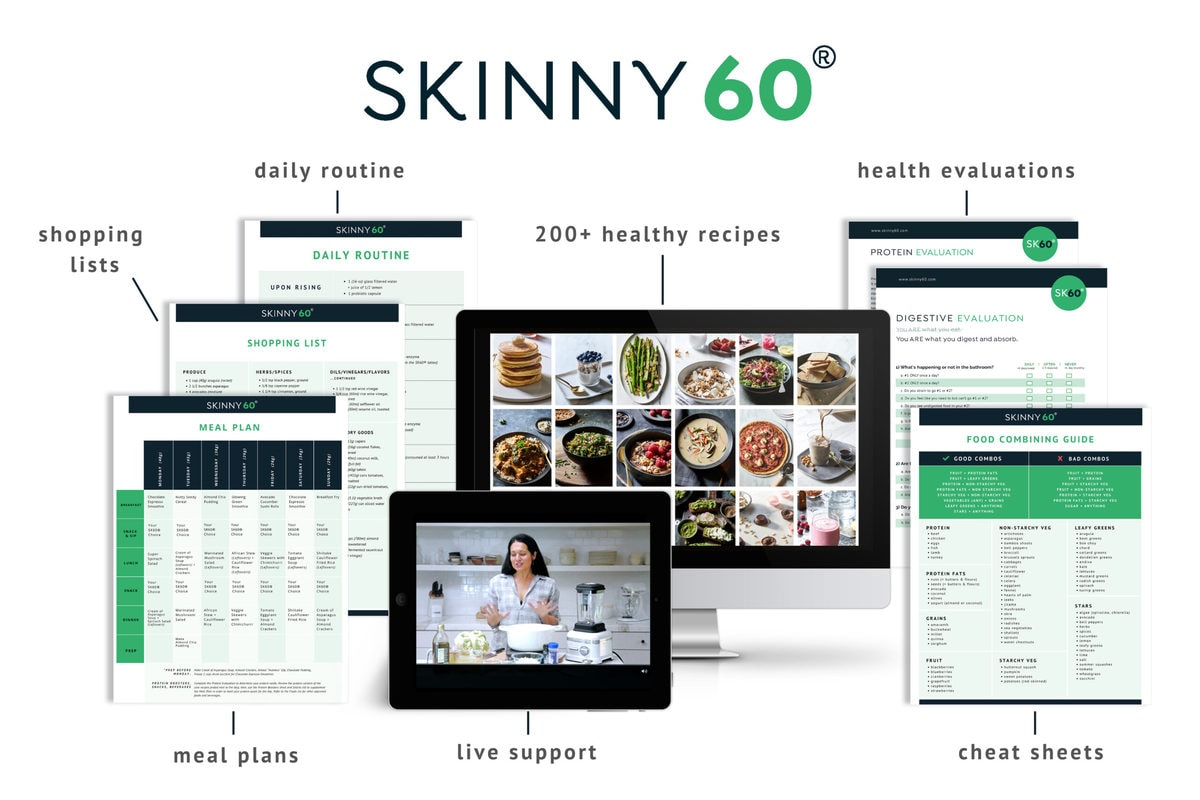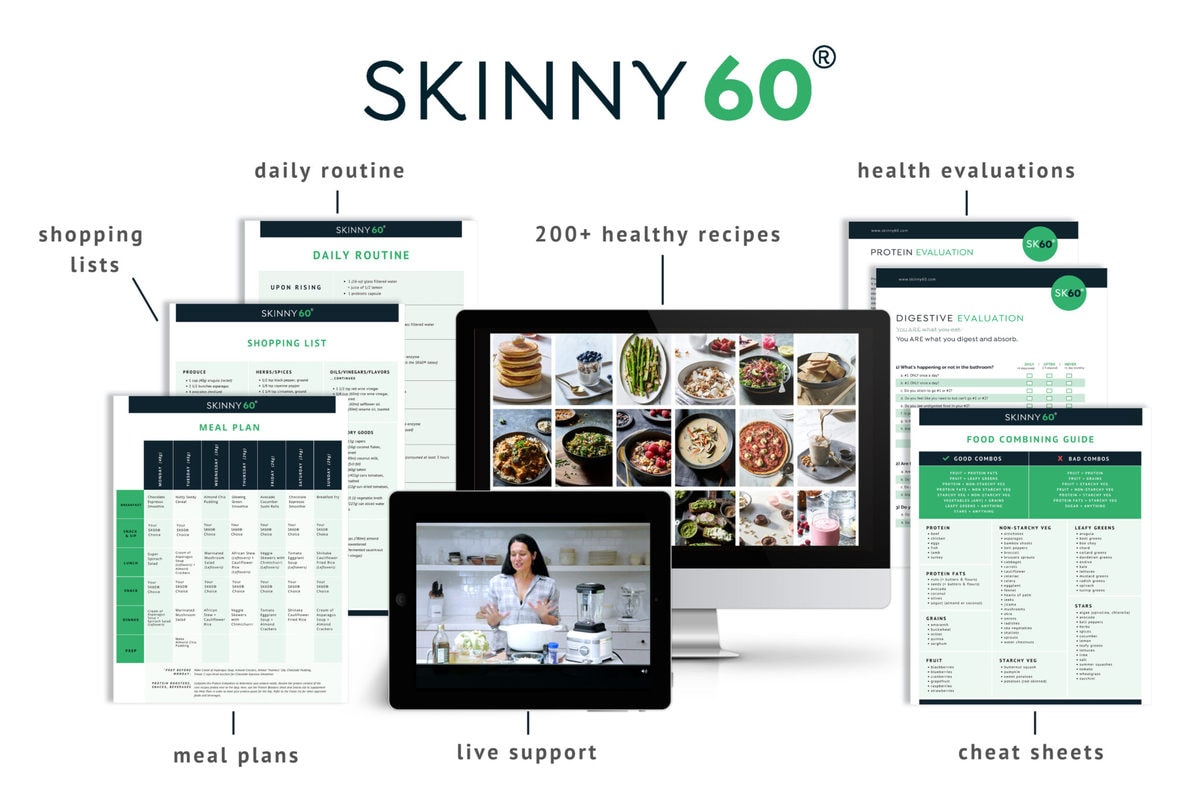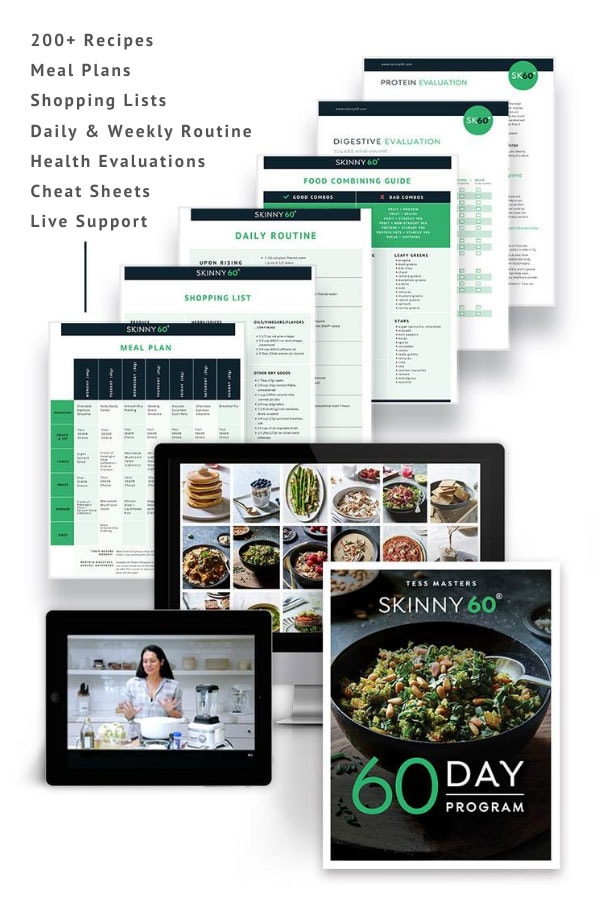 Is the 60-Day Reset for you?
IS THIS RIGHT FOR ME?

I'VE GOT ANSWERS!
What's included in the 60-Day Reset?
This is a live program with full support from me and my team of dietitians with Video Calls, Office Hours, Cooking Tutorials, and access to our private Facebook group. You get a Program Guide with the Skinny60® System, over 200 Recipes, 9 Weekly Meal Plans and Shopping Lists, Foods Guides and Cheat Sheets to help you follow the program, and a Journal to track your progress. You will also receive a Checkup List to consult with your doctor or medical practitioner (if you wish to) and a Digestive Evaluation and Protein Evaluation to assess your current state of health and needs in order to effectively track your progress for the best results!
How soon after purchasing will get access to the program materials?
The 60-Day Reset materials are available to you immediately. Upon purchasing, you will receive an email with a login and password to the SK60® website where you can view and download the program materials. You will receive access to the Living Plate® Rx Nutrition platform one week before the program begins.
What will I learn?
With the 60-Day Reset, you'll learn:
The state of your digestion and gut health, and how to improve it for better health and weight loss.

How much protein your body needs to thrive each day. (This is a game-changer.)

The best foods to eat for weight loss and energy.

How to combine foods to beat the bloat, reduce gas, and acid reflux.

Effective strategies to drop the pounds easily, and gain more energy.

How to cook healthy meals with fabulous flavor so you can change your eating habits for long-term results!

The best snacks and beverages to support your weight-loss journey.

Wellness strategies to achieve better health.

How to change your food and lifestyle habits for long-term results.
Can I get a physical copy of the downloads?
At this time, all of the materials for the 60-Day Reset are only available in digital format. All materials can be downloaded and printed from the SK60® website. You can print the pages and keep them in a binder; or save the downloads to your digital device; or print the cheat sheets to place on your fridge or board for easy reference.
How do I know if this program is right for me?
If you are ready to make long-term food and lifestyle changes, and want full support and accountability to achieve better health, improve your digestion, get better quality of sleep, gain more energy, and lose weight, the 60-Day Reset is for you! You will need to stick to the daily routine, purchase the recipe ingredients, and cook the recipes (or follow the food guidelines) in order to be successful. If you do not want to try something new and do not want to follow the guidance and routine laid out in the program, the 60-Day Reset is not for you. If you have food allergies to nuts and seeds (particularly almonds or hemp seeds) or avocado, many of the recipes in the program may not be suitable for you. However, you do not need to make the SK60® recipes to get great results. You can simply stick to the approved foods and follow the food combining principles to make things quicker and easier. There are guidelines for this simplified version in the program materials.
How much does the program cost?
You get access to the program today for the special discounted price of US$299.40. This is a one-time fee, and you get immediate access to all program materials. You get the SK60® Weight-Loss System, Meal Plan, Recipes, Shopping List, Health Evaluations, and all Cheat Sheets.
What is your return policy?
We want to help you reach your health goals and get real results. So, we have a 14-day money-back guarantee once you start the program. If the 60-Day Reset doesn't help you in the first two weeks of the program, contact us, and we will issue a full refund. 
What How much weight will I lose?
Factors like diet, age, gender, body size, muscle mass, genes, hormones, environment, drugs, and physical activity influence metabolism. Base metabolic rate (BMR) measures energy use at rest; and above-base metabolic rates vary with activity and stress. Our healthy meal plan, in conjunction with regular exercise, is an effective way to help regulate metabolism and lose weight. But, how much weight you will lose on the program will vary. Having said that, on average, previous participants have lost between 10 and 48 pounds. Watch the testimonials from previous participants to get an idea of what people experience during the program.
Do I have to exercise?
You will get the best results if you move and exercise as much as possible every day. Develop your exercise protocol based on your level of comfort and ability in consultation with your doctor or healthcare practitioner. We do not provide a formal exercise routine as part of the 60-Day Reset. However, we do have exercise guidelines that have been developed in consultation with our wellness practitioners.
Can I drink coffee and tea?
Yes! Caffeine can aid weight loss and fat burning when consumed at appropriate times for your activity levels and workout schedule. If you do consume caffeine, we recommend consuming it in moderation before noon, not in the afternoon and evening, to support quality rest and sleep. The SK60® Daily Routine can help you learn more about making caffeine work for you during the program.
Can I drink alcohol?
This is the Skinny60®, not the Dry60. A glass of alcohol here and there on the "Your Choice" days (Saturdays and Sundays) will not impede your progress, when consumed in moderation. However, you will get the best results if you refrain from consuming alcohol during the program, particularly wine and other alcohol that is higher in sugar.
What kinds of recipes are included?
You have access to over 200 healthy recipes that are:
low carb

plant-based (dairy-free, egg-free)
gluten-free
soy-free
sugar-free
Use the nutrition software to customize your meal plan and choose the recipes, foods, snacks, and beverages you want to suit your dietary and flavor preferences, and budget. You also supplement the recipes with plant or animal protein from our approved list to meet your protein needs as determined by the SK60® Protein Evaluation. 
What if I can't eat a food?
If you cannot source a particular ingredient, there are substitution suggestions in the recipes. If you don't like a particular ingredient or recipe, there are "off meal plan" suggestions you can slot into the program. If you have food allergies to nuts and seeds (particularly almonds or hemp seeds) or avocado, some of the recipes on the 60-Day Reset may not be suitable for you. But, you can choose alternate recipes.
How much will the groceries cost?
You will do one pantry shop before you start the program to get the staples (olive oil, vinegar, etc) that are used in the recipes for the 60 Days. You may have many of the staple ingredients in your kitchen already. If you do not, the first shop typically costs about $200. Then, once your kitchen is set up, we estimate the cost of the produce to be between $100 and $120 per week. Costs will vary according to how you customize the meal plan, and what food you make. If you choose to supplement the plant-based recipes with high quality animal protein, your grocery bill may be higher (although, you will not be consuming as many nuts and seeds).
How long will the food prep take?
This depends on what food you make. But, on average, it takes about 1 hour per day to make the meals and snacks; and 3 to 4 hours on the prep day to get ready for the next week. You can search the SK60® Recipe Center for 10, 20, 40, and 60 minute recipes according to your preference and schedule. The meal plans are structured so that you will often be eating leftovers for lunch the next day to make prep easier. And, for the more involved recipes, you will make them once, and freeze portions for future weeks. So, your food prep will decrease as your move through the program.
Will I be hungry?
Not likely. The recipe portions are deliberately generous to accommodate even the largest appetites. This is not a starvation diet, it is a celebration of food, flavor, and abundance. We are not counting calories. You will be eating three to five times each day (breakfast, mid-morning snack, lunch, afternoon snack, and dinner, if you choose to.) Having said that, everybody is different, and should you feel hungry, we have provided delicious snack recipes as well as a list of recommended snacks.
Will I get enough protein?
Yes, and you control your protein intake using our protein boosters once you determine your needs with the SK60® Protein Evaluation. The core recipes are high in plant-based protein, and then you supplement the recipes with plant or animal protein from our approved list.
Can I eat out and travel?
Yes! The 60-Day Reset is a flexible program that you can follow while living your life with family and friends. Using the SK60® meal plans and recipes that have been vetted by our dietitians will help you get great results. But, you can still get good results by sticking to the recommended foods lists, and adhering to the food combining guidelines. You can eat "off meal plan", eat out, and travel during the program. Our Eating Out and Travel Guide makes choosing meals easy!
Can I eat the food with my family?
Absolutely! Use the Living Plate® Rx Meal Planning software to scale recipes up (and automatically add the ingredients to your shopping list) with one click of a button. Many participants do the program with their partner. And, the recipes are family-friendly, and many dishes such as the bolognese, bread, crackers, pudding, chocolates, and smoothies are really popular with kids so you can teach them healthy habits, too.
Do I need to consult with my doctor?
Even though this is a clean eating program and not an extreme approach, we recommend that you make an appointment with your doctor or healthcare practitioner who is familiar with your medical history to determine whether the 60-Day Reset is suitable for you. We also recommend reviewing your current medications and supplements with your practitioner to determine whether our recommended supplements (multivitamin, digestive enzymes, glutamine, magnesium, and probiotics) are right for you.
Can I participate if I'm being treated for a medical condition?
It depends on what the condition is and what the circumstances are. Please consult with your doctor or practitioner to get approval to participate in the 60-Day Reset, and reach out to us with any questions.
Can I do the program if I'm pregnant or nursing?
No, we do not recommend pregnant and nursing mothers participate in the 60-Day Reset.
HAPPINESS GUARANTEE!

OUR PROMISE TO YOU.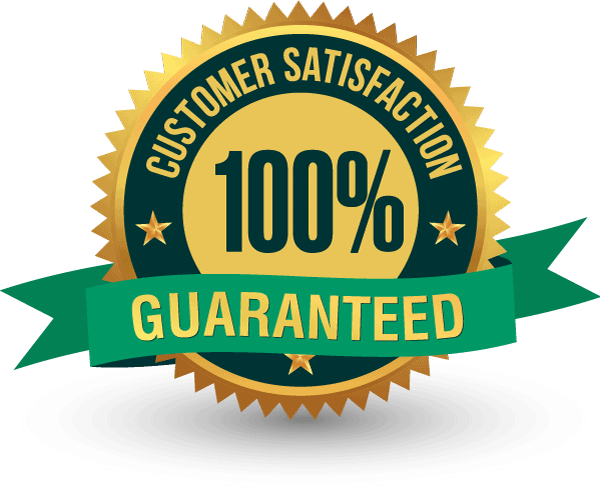 We want to help you reach your health goals and get real results. So, we have a 14-Day Money-Back Guarantee once you start the program.
If the 60-Day Reset isn't for you in the first two weeks of the program, contact us, and we will issue a full refund. 
ONE MORE TIME:

HERE'S WHAT YOU GET!