Don't Starve Yourself To Get Healthy.
The KEY to Better Health is BETTER DIGESTION.
Sleep Better , Get More Energy, and Lose Weight!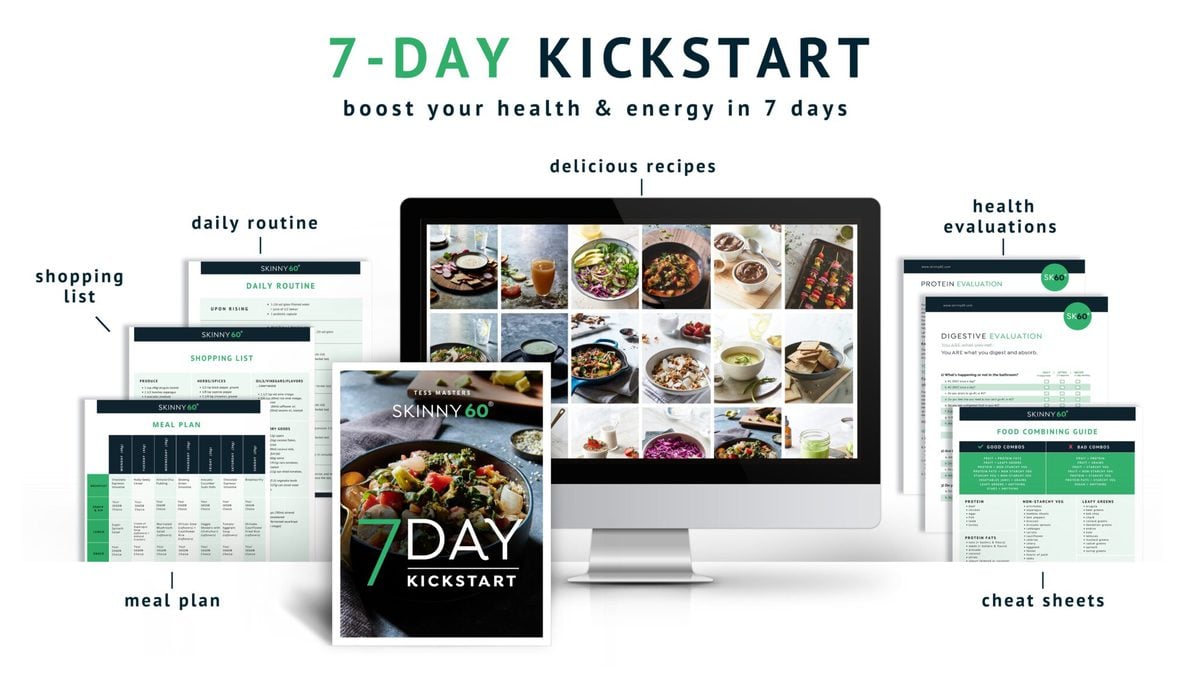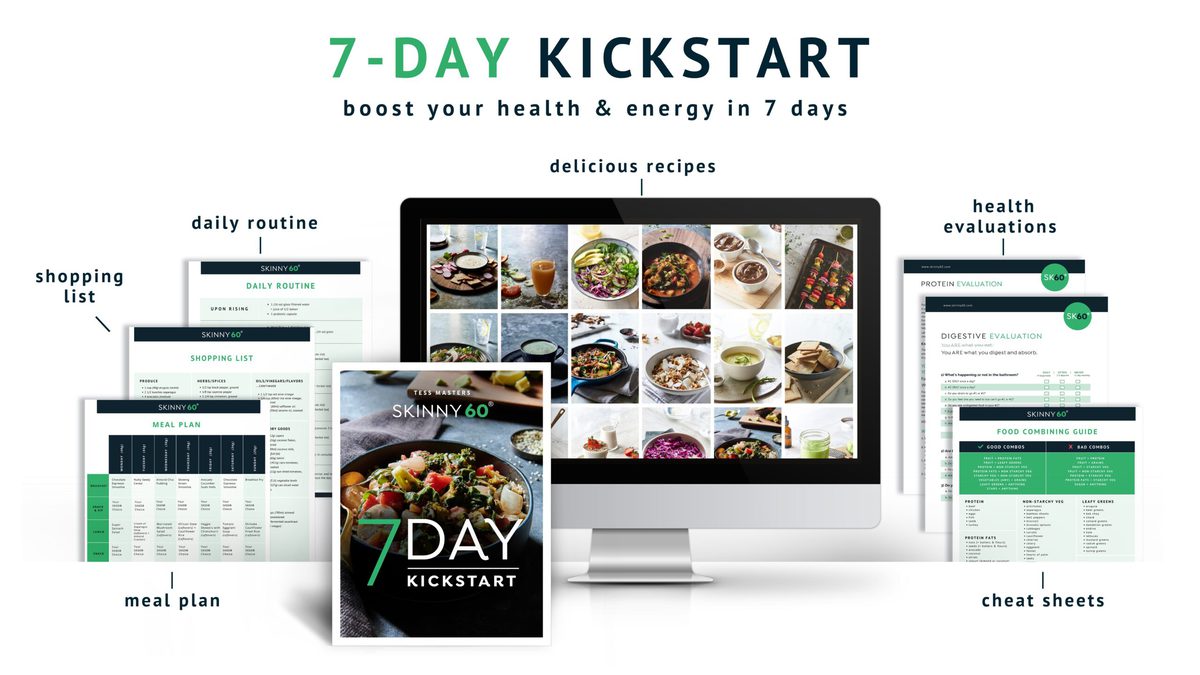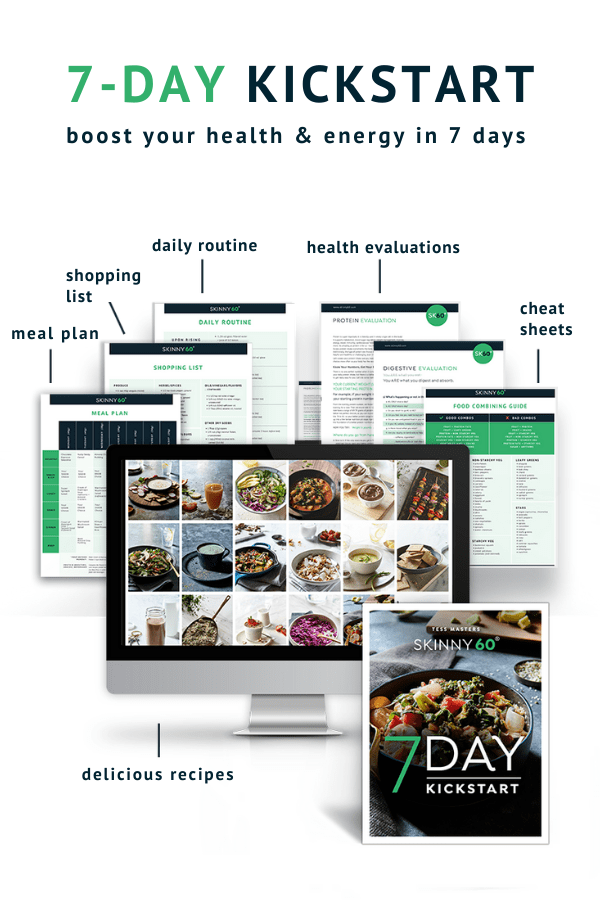 ARE YOU STRUGGLING LIKE THIS?
I need to lose weight.

You've reached a "certain age", and have stubborn weight (particularly around the belly) that just won't move! Your clothes don't fit, and when you look in the mirror you feel sad and defeated. 

I'm addicted to sugar and can't stop the late-night snacking!

You love bread, pasta, and sweets, and you snack at night in front of the TV or computer. You feel tired and bloated, and your levels are elevated. You want to break the cycle, but you don't know how. 

I am gassy, bloated, and have digestive problems.

You are just uncomfortable when you eat.  Maybe you have acid reflux, GERD, or candida? You know you have gut health issues, but you don't know how to fix them. 

I wish I could sleep through the night.

You wake up multiple times each night and never get a good night's rest. You think it's your age and it's just the way it is. (No, it does not have to be this way, even with menopause.)

I am tired of being tired!

You wake up exhausted every morning and rely on coffee to get through the day. You need more energy to live your life, and just don't know what to do.

I have all of these annoying health issues.

You have aches and pains, inflammation, skin conditions, diabetes, and hormone problems, and you're on several medications. These issues are affecting your quality of life.

My blood work was scary!

You've got high blood pressure, cholesterol, or blood sugar levels, and excessive inflammation. Your doctor has said you must make some changes or you are going to get very sick. 

Menopause is ruining my life...

You've got hot flashes, night sweats, foggy brain, sleep problems, fatigue, mood swings, low libido, you've gained weight on your belly, hips, and thighs, and you can't lose it no matter what you do. 
YOUR BODY IS BEGGING YOU TO MAKE CHANGES.
Thousands of women in our community have shared these same issues.
And, the SOLUTION lies with some SIMPLE STRATEGIES.
Over 30,000 people have used our programs to achieve better health.
Let us help YOU!
THE KEY IS BETTER GUT HEALTH.
Diets are miserable, they are not sustainable, and they can be dangerous.
And, weight is only one measure of health.
Your GUT MICROBIOME literally RULES YOUR BODY.
Basically, your gut sends messages to your brain and other parts of your body to regulate your appetite, blood sugar, hormones, and metabolism which effects your ability to lose weight!
If that messaging system is not working properly, you get all kinds of health problems.
So, we start with improving your digestion.
WHEN YOU IMPROVE YOUR GUT HEALTH....
Your brain sends the right messages around your body.
You can regulate your blood sugar and hormones.
Then, you sleep better, have more energy, and can lose weight.
YES....even during menopause!
THE KICKSTART WILL HELP YOU:
Lose weight eating delicious food.

Improve your gut health and digestion.

Optimize your blood sugar and hormones.

Reduce aches, pains, and inflammation.

Sleep better and have more energy.

for only
A PROVEN SYSTEM

to boost your health and energy, and lose weight. 
HEALTH EVALUATIONS

to assess your health, and determine your needs. 
MEAL PLAN

vetted by dietitians so you know exactly what to eat.
DELICIOUS RECIPES

so you never feel hungry or deprived! 
SHOPPING LIST

to make it easy to get your supplies. 

DIGITAL COOKBOOK

with full color photos and nutrition data. 
CHEAT SHEETS

to make it easy to follow the program. 
The 7-DAY KICKSTART can help you:
I can't believe what happened in just one week!

I lost 7 pounds in a week, and I didn't have to starve myself. All I did was make the recipes, and follow the meal plan and the daily routine. I have all of Tess's cookbooks so I knew the food would taste incredible. But, gosh, I just couldn't believe the difference the food combining made! Within three days, I didn't feel bloated anymore, and I was sleeping so deeply, and waking up feeling refreshed with more energy than I have had in years.  I also learnt a lot about my body and my relationship with food. And, now I have some great healthy practices I can use moving forward to build on my results. Doing this kickstart was a game changer for me.

- Suzie M - Boston, MA
I have energy like I'm in my twenties again!

I have all of Tess's cookbooks, and many of her recipes are family favorites. I had read about food combining, probiotics, and soaking foods to improve digestion and gut health in her first book. But, I had never put any of her tips into practice. Well, after following her daily routine for a week, I was shocked at how much better I felt with some simple changes. I lost 8 pounds eating the best food ever, and it was like the food was a magic sleeping pill. The energy piece was the biggest win for me. I am a busy mom of three teenage boys, and this is the most energy I have had since I was in my twenties. It is just so great!

- Ingrid W - Chicago, IL
Our system is

EASY

and

DELICIOUS

!
COUNTING CALORIES AND CARBS

OBSESSING OVER PORTION SIZES

WEIGHING YOURSELF EVERY DAY

FEELING MISERABLE AND DEPRIVED
COMBINING FOODS STRATEGICALLY

USING SIMPLE HEALTH STRATEGIES

LOSING WEIGHT IN A SUSTAINABLE WAY

have used my programs to boost their health and lose weight.

with Penguin Random House.

in The Blender Girl community are using my health tips to live their best life!
Changing my protein intake made a huge difference!

Looking at my protein intake was in interesting exercise. I realized I was eating too much protein, and wasn't eating the good protein. I was drinking protein shakes and eating big pieces of animal protein for dinner to fuel my gym sessions. When I ate smaller amounts of protein from a variety of the suggested sources consistently throughout the day I felt stronger, and had more energy. I have battled acid reflux for many years, and that improved as well.

- Dan F - Los Angeles, CA
Plan, Shop, Follow the Routine
Eat Fabulous Food That Helps You:
Yum... That all looks sooooo good!
Here's what is on the menu....

There's not a bad recipe in the bunch!

The food is so ridiculously good that I felt like I was eating at a gourmet restaurant every night. There wasn't a bad recipe in the whole meal plan. My husband jumped on board when he tasted the Chocolate Espresso Smoothie." We did the kick-start together. I lost 8 pounds, and Mike lost 10! But, more importantly, we just feel so fantastic. We beat the bloat, don't feel sluggish anymore, and we really enjoyed cooking meals together that we knew would taste great and make us feel amazing. This was just what we needed.

-Liz C - Melbourne, Australia
Food combining was the missing piece for me!

I have been a healthy eater my whole life, and was eating good food. But, I had never tried food combining before. Holy cow! THIS was the missing piece for me. Before doing the kickstart, I was waking up 3 to 4 times every night and I was so tired every day. By day 5 of the kickstart, I was only waking up once, and I had so much energy in the morning. I am so excited that I know how to put foods together in a better way now! I can't believe the difference it makes. I lost 7 pounds, and I feel so much lighter. Thank you!

- Angela G - Kansas City, MO

I've tried everything, and this worked!

I had literally tried everything to lose weight, and I was very frustrated, and pretty depressed that I couldn't find something that worked for me. I don't do well with diets where I have to count calories or figure out portions. I like to cook. But, the recipes in most diet plans don't taste that great. I gave this a go because I watched Tess on some Facebook lives and she shares good information that made sense to me. But, I was still skeptical. How different could this really be? I am so glad I did this. The food was excellent, I was never hungry, and the only thing I had to think about was adding the protein boosters to my meals. I lost 7 pounds, and it was so easy. I just cannot believe it. I am going to do the 60-day program now. I am so grateful.

- Dawn S - Toronto, Canada
I MAKE HEALTHY LIVING DELICIOUS!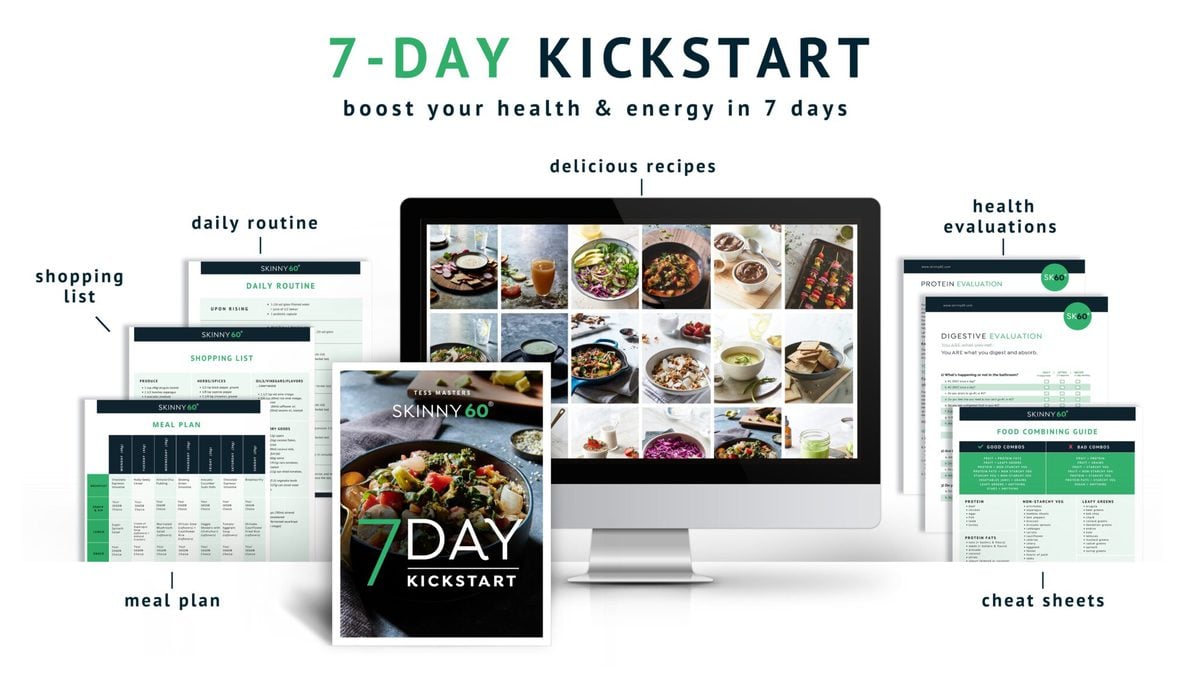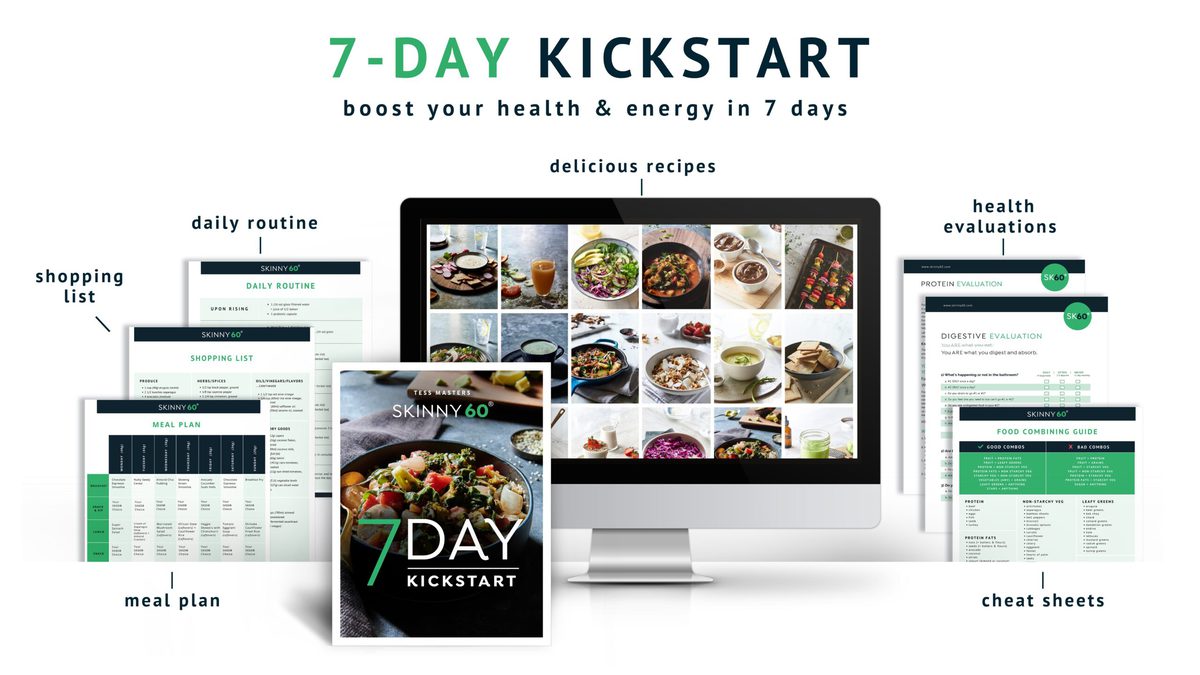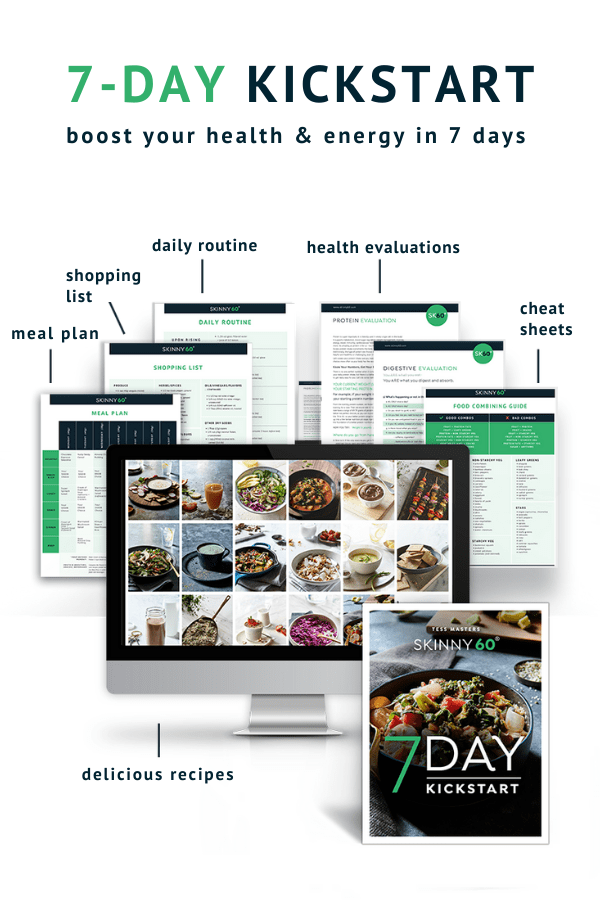 The recipes are easy and taste amazing!

The best thing about this program is that the recipes are easy, and they taste amazing! I like that you can customize the meal plan to your needs, and add the kind of protein you want. It made me feel like I had control over what I was eating. I also loved that there were snacks. So, everything was covered, and I wasn't thinking about what I was missing. The week went by so quickly, and when I stepped on the scale at the end of the week, I was overjoyed to see that I had lost 7 pounds. Wow.

-Peggy B - Grand Rapids, MI
IS THE 7-DAY KICKSTART FOR YOU?
What's included in the 7-Day Kickstart?
This is a digital, self-guided, clean eating program that you can participate at a time that is convenient for you. Upon purchasing, you will receive an email with 3 digital downloads: Program Guide, Food Guide, and Cookbook. These three downloads include everything you need to be successful. You will receive the SK60® Weight-Loss System using proven strategies to help you achieve better health and lose weight quickly. This system includes a  Daily Routine, 7-Day Meal Plan (for breakfast, lunch, dinner, snacks, and beverages), 20 Easy Healthy Recipes, Shopping List, and Cheat Sheets to make following the program super easy. You will also receive a Digestive Evaluation and Protein Evaluation to assess your current state of health and needs in order to effectively track your progress for the best results!
How soon after purchasing will I receive the product?
The 7-Day Kickstart materials will be delivered digitally to the email address you provide at checkout. It should arrive within 5-10 minutes of your purchase.
What will I learn?
With the 7-Day Kickstart, you'll learn:
The state of your digestion and gut health, and how to improve it for better health and fast weight loss. 

How much protein

your body

needs to thrive each day. (This is a game-changer.)

The best foods to eat for weight loss and energy.

How to combine foods to beat the bloat, reduce gas, and acid reflux.

Effective strategies to drop the pounds easily, and gain more energy. 

How to cook healthy meals with fabulous flavor so you can change your eating habits for long-term results! 

The best snacks and beverages to support your weight-loss journey. 
Can I get a physical copy?
At this time the 7-Day Kickstart is only available in digital format. All materials are delivered via email. You can print the materials and have them bound; keep your printed pages in a 3-ring binder; or save the downloads to your digital device and just print the cheat sheets to place on your fridge or board for easy reference.
How do I know if this program is right for me?
If you are ready to change your eating habits, and want to get healthy and lose weight, the 7-Day Kickstart is for you! You will need to stick to the daily routine, purchase the recipe ingredients, and cook the recipes (or follow the food guidelines) in order to be successful. If you do not want to try something new and do not want to follow the guidance and routine laid out in the program, the Kickstart is not for you. If you have food allergies to nuts and seeds (particularly almonds or hemp seeds) or avocado, many of the recipes in the program may not be suitable for you. 
How much does the program cost?
You get access to the program today for US$59.99. This is a one-time fee, and you get immediate access to all program materials. You get the SK60® Weight-Loss System, Meal Plan, Recipes, Shopping List, Health Evaluations, and all Cheat Sheets.
What is your return policy?
We want to help you reach your health goals and get real results. So, we have a 14-day money-back guarantee. If the 7-Day Kickstart doesn't help you in those 14 days, contact us, and we will issue a full refund.  
How much weight will I lose?
Everybody is different. Factors like diet, age, gender, body size, muscle mass, genes, hormones, environment, drugs, and physical activity influence metabolism. Our healthy meal plan, in conjunction with regular exercise is an effective way to help regulate metabolism and lose weight. How much weight you will lose on the kickstart will vary. The average participant loses between 5 and 7 pounds. 
Do I have to exercise?
You will get the best results if you move and exercise as much as possible during the program. Develop your exercise protocol based on your level of comfort and ability in consultation with your doctor or healthcare practitioner. We do not provide a formal exercise routine as part of the 7-Day Kickstart.
What kinds of recipes are included?
All of the recipes are plant-based (dairy-free, egg-free), gluten-free, soy-free, and  sugar-free. You have the option to supplement the recipes with animal protein from our approved list, and you can mix and match recipes to suit your dietary stripes, flavor preferences, and budget.
What if I can't eat a food?
If you cannot source a particular ingredient, there are substitution suggestions in the recipes. If you don't like a particular ingredient or recipe, there are "off meal plan" suggestions you can slot into the program. If you have food allergies to nuts and seeds (particularly almonds or hemp seeds) or avocado, many of the recipes on the 7-Day Kickstart may not be suitable for you.
Will I be hungry?
Not likely. This is not a starvation diet, and you do not count calories. The meal plan includes recipes for breakfast, lunch, and dinner, plus snacks and beverages. The recipe portions are deliberately generous to accommodate even the most voracious appetites. Most participants report having leftovers to use as snacks or to share with family members. Having said that, everybody is different, and should you feel hungry, we have provided delicious snack recipes and a list of recommended snacks.
Will I get enough protein?
Yes. And, you control your protein intake. You will use the SK60® Protein Evaluation to determine your protein needs. The core recipes are high in plant-based protein, and then you supplement the recipes with high quality animal protein from our approved list and/or additional plant protein to reach your protein quota each day.
Can I eat the food with my family?
Absolutely! Many participants do the program with their spouse or partner. And, the recipes are family-friendly, and many dishes are really popular with kids so you can teach them healthy habits, too.
How long will the food prep take?
On average, it takes about 1 hour per day to make the meals and snacks; and about 2 hours on the prep day to get ready for the week. Most recipes take between 15 and 30 minutes to prepare or assemble. You will often be eating leftovers for lunch to make prep easier.
How much will the groceries cost?
Depending on what oils and spices you have in your pantry, the average participant spends about $150 on groceries for the program.
Can I drink coffee and tea?
Yes! Caffeine can aid weight loss and fat burning when consumed at appropriate times for your activity levels and workout schedule. If you do consume caffeine, we recommend consuming it in moderation in the morning before noon to support quality rest and sleep. Our daily routine guidelines can help you learn more about making caffeine work for you during the program.
Can I drink alcohol?
This is the Skinny60® not the Dry60. If you want to drink alcohol, we recommend consuming it during the day, rather than at night, to give your body time to digest it. However, you will get the best results if you refrain from consuming alcohol during the week you are on the program. 
Do I need to consult with my doctor?
Even though this is a clean eating program and is not an extreme approach, we recommend that you make an appointment with your doctor or healthcare practitioner who is familiar with your medical history to discuss the suitability of some of our recommendations. We also recommend reviewing your current medications and supplements with your practitioner to determine whether our recommended supplements (which are optional) are right for you.
What if I am being treated for a medical condition?
Please consult with your doctor or medical practitioner to determine whether the 7-Day Kickstart is appropriate for you.
What if I am pregnant or nursing?
We do not recommend pregnant and nursing mothers participate in the program.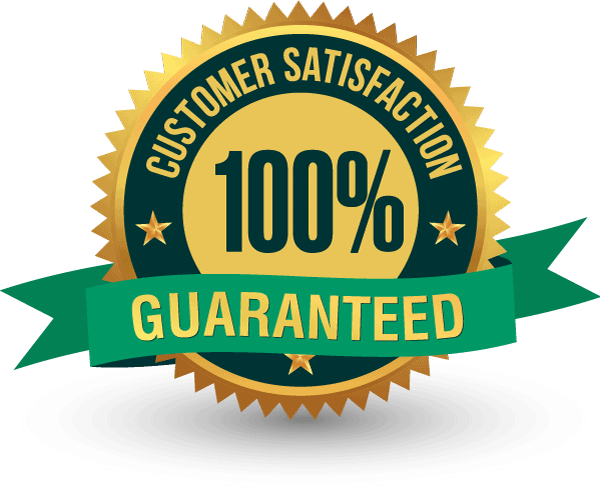 We want to help you reach your health goals and get real results. So, we have a 14-Day Money-Back Guarantee.
If the 7-Day Kickstart doesn't help you in those 14 days, contact us, and we will issue a full refund. 
This was such a fantastic gift to myself.

I did the kickstart as a gift to myself. I was feeling sluggish and bloated, and wasn't taking care of myself in the way I needed to. But, I was stuck, and didn't know where to start to make the changes I knew I needed to make. This was just what I needed. The routine was easy to follow, the food was incredible, and it was easy to put together. And, I had plenty of leftovers for snacks. The protein piece was a real eye opener for me, and so was the food combining. It took me a couple of days to get my head around it. But, I just went with it, and it paid off. In just a week, I am less bloated, I am not tired after I eat, and I am sleeping through the night for the first time in ten years.

-Margaret A - Seattle, WA