THE CLUB IS CLOSED TO NEW MEMBERS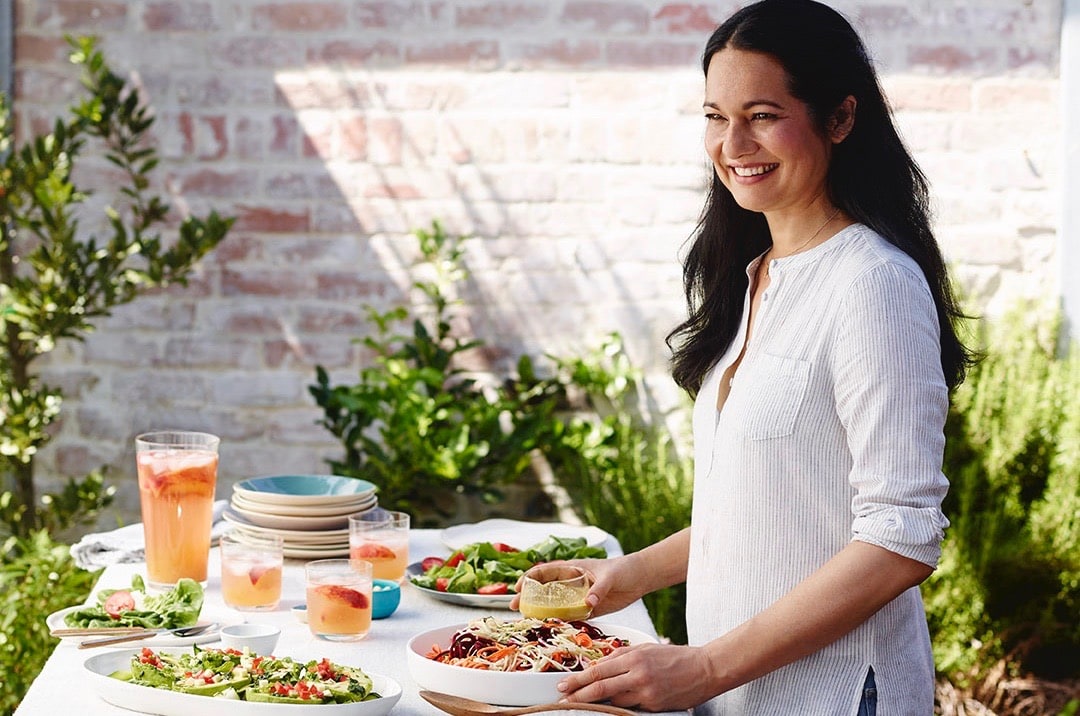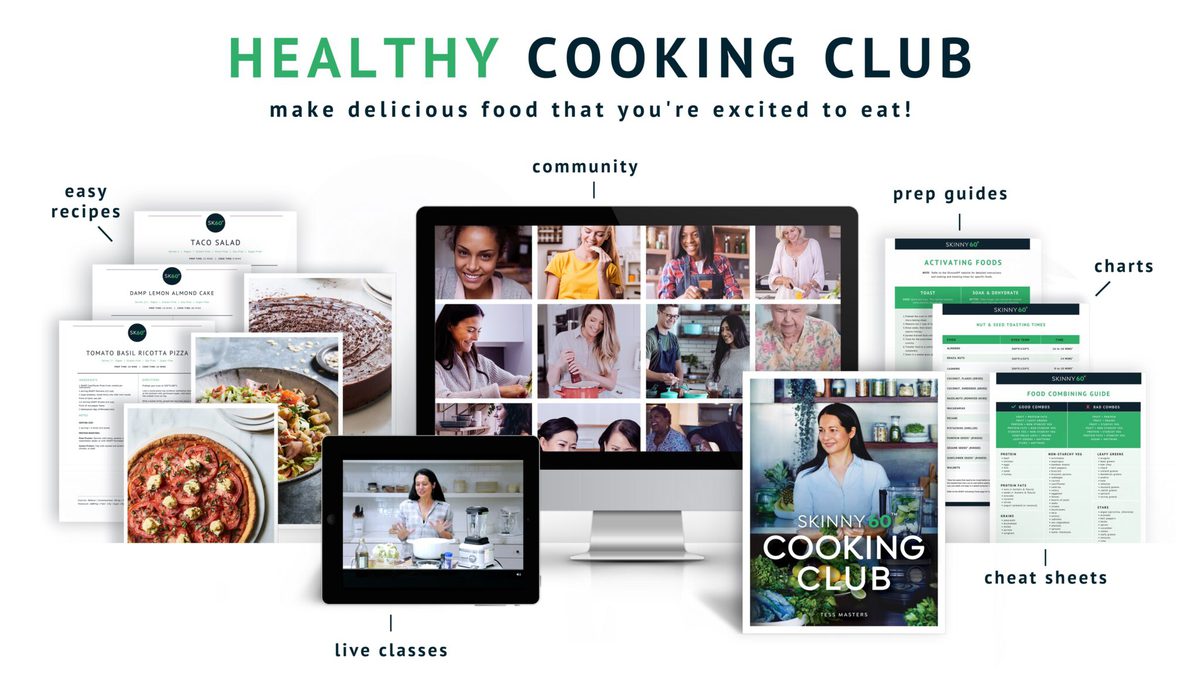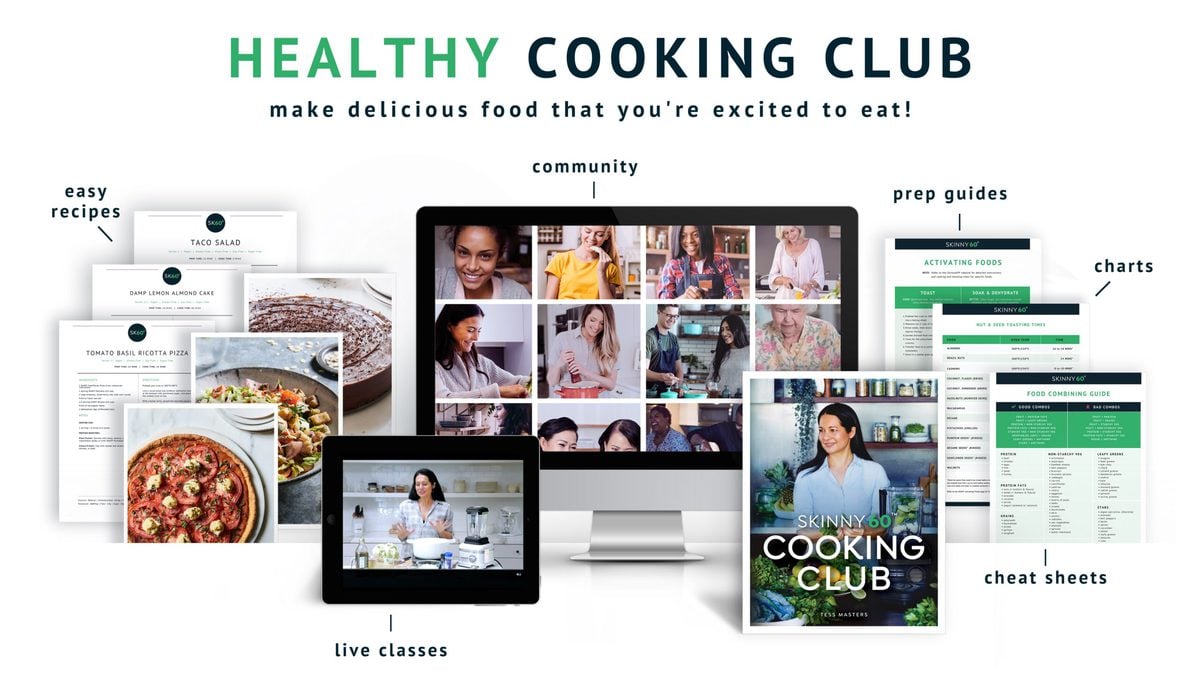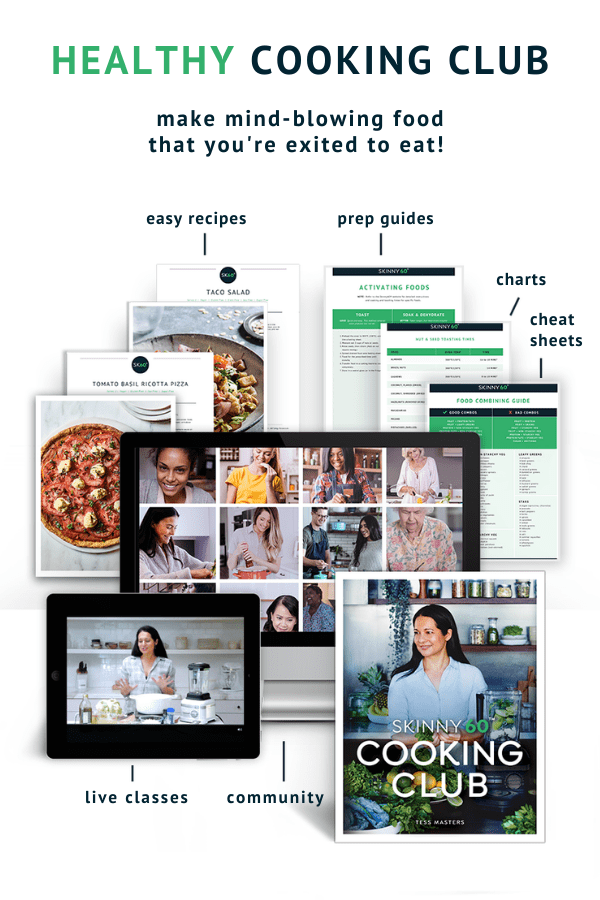 THOUSANDS OF PEOPLE HAVE USED MY RECIPES
TO FALL IN LOVE WITH HEALTHY FOOD
DOES THIS SOUND FAMILIAR?
You need to change your eating habits.

You eat a lot of bread, pasta, and sugar, and feel bloated, tired, and hungry all the time. You snack on convenience foods to get through the day, and you've packed on the pounds. 

You order takeout a lot.

You're tired and don't have time to cook, so it's just easier to order takeout or eat a frozen dinner. You want to break the cycle, and need quick, easy meals you can throw together.

You don't know how to cook healthy food.

You make family favorites, but your meals aren't as healthy as they could be. You want to get healthy, but don't know how to make vegetables taste good.

Your family hate vegetables.

Your hubby and kids are picky, and think vegetables taste like cardboard! You want to eat better, but you need amazing recipes that your family will actually want to eat!

You want to be a better cook.

You love really delicious food, and want to learn how to make healthy food that gets you excited. 
SO many women in the Cooking Club have shared these same issues.
Being confident in the kitchen, knowing how to throw easy meals together, and having a collection of mind-blowing recipes makes healthy living FUN.
I have helped thousands of members get excited about healthy food. 
Let me help YOU!
COOKING CLUB WILL HELP YOU:
Be confident in the kitchen.

Pair ingredients for amazing flavors.

Make incredible meals in 30 minutes.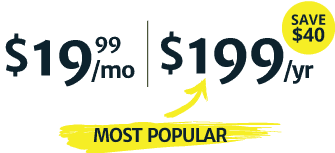 I MAKE HEALTHY FOOD IRRESISTABLE!
My SUPERPOWER is making Healthy Food DELICIOUS!
"I can't get excited about vegetables."
Oh...YES you CAN!
Forget warped carrot sticks, wilted lettuce leaves, and sludgy diet drinks that leave you feeling miserable and deprived.
NOBODY wants to eat ANYTHING that looks and tastes like the place where the plants came to DIE.
As a chef and author of The Blender Girl cookbooks, my passion is creating MIND-BLOWING FOOD that makes you swoon with every bite, and leaves you CRAVING MORE.
So, basically, I create every recipe like it's my last meal on earth, and I'm cooking for George Clooney!
Thousands of people have used my recipes to LOVE vegetables and become fantastic healthy cooks. And YOU can, too!
(Oh, and we'll get your veggie-phobic hubby and children begging for broccoli, too!)
And, we will cook every recipe together!
We'll make every recipe step by step on live video calls so you can ask me questions face-to-face. You'll be in your kitchen, I'll be in mine, and we will all cook together and have a laugh. (It is SO much fun!)
I'll share all of my tricks so you feel confident in the kitchen, and can throw incredible meals together quicker than you can order takeout and wait for it to be delivered.
Your family and friends will be BEGGING you to cook, and stealing food out of your fridge while they stuff their faces and proclaim you a culinary genius!
AND, the food makes you feel amazing. (DOUBLE WIN!)
I've spent the last 30 years becoming a kitchen ninja, and working with some of the most respected doctors and dietitians to combine my
NUTRITION KNOWLEDGE and COOKING SKILLS
to create recipes that make your saliva sing and your body bounce back!
All of the recipes are strategically combined for better digestion, are sugar-free (diabetic-friendly) and are vetted by my team of dietitians to ensure nutrient balance. (And you can get most ingredients from your local grocery store.)
It's pretty cool to see people lose weight "without even trying", sleep better, have tons of energy, and look 10 years younger while they're dancing in the kitchen like the cat that licked the canary!
The Cooking Club will help you GET HEALTHY
eating DELICIOUS FOOD that you CRAVE! 
READY TO BE A KITCHEN NINJA?


have used my programs to boost their health and lose weight.

with Penguin Random House.

in The Blender Girl community are using my recipes to live their best life!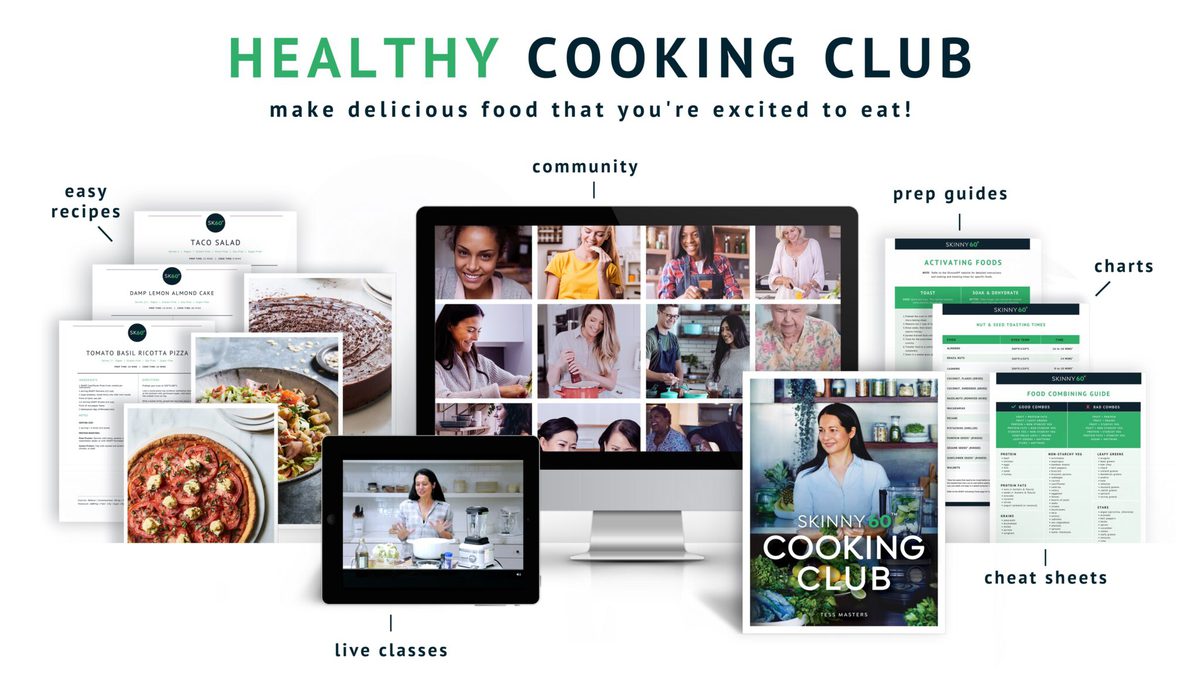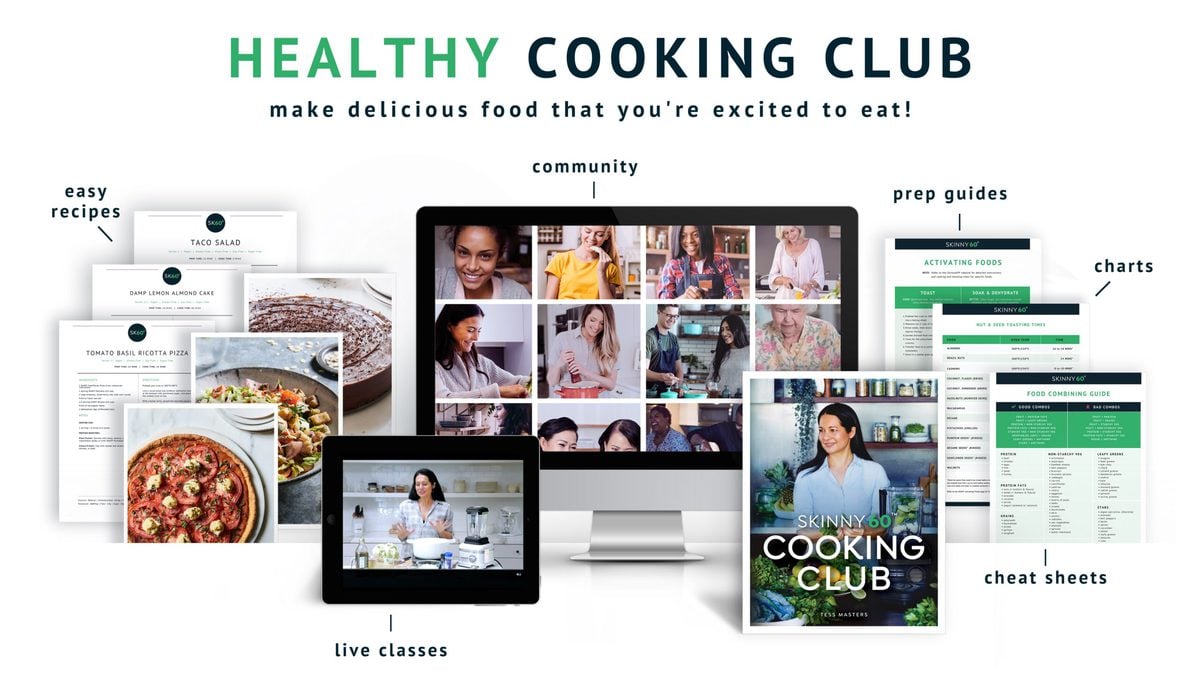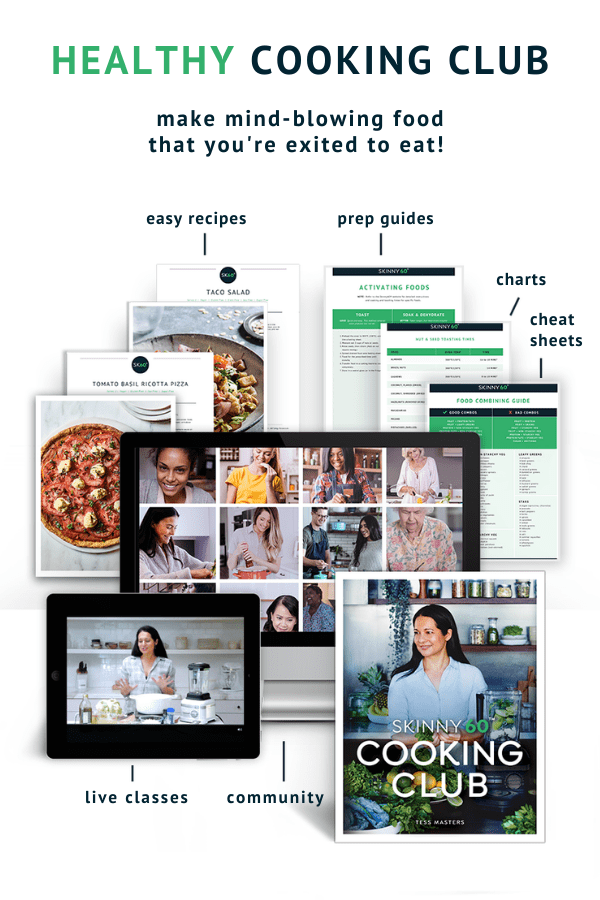 LIVE COOKING CLASSES

Cook with me live and ask questions; watch and take notes, or view the recordings.
EASY HEALTHY RECIPES

All recipes are plant-based, gluten-free, soy-free, and sugar-free with photos, video tutorial, nutrition data, and prep notes. 
INGREDIENT GLOSSARY

How to select and store, how to use, flavor pairings, and nutritional data. 
GUIDES AND CHEAT SHEETS

Learn to prepare foods for fabulous flavor and better digestion! 
WELLNESS INTERVIEWS

Get access to our library of interviews with doctors, dietitians, and other wellness practitioners. 
Facebook Group

Get support, ask questions, share photos and recipes, and connect with like-minded people. 
The COOKING CLUB gives you the RECIPES, SKILLS, and KNOWLEDGE to:
READY TO EAT MIND-BLOWING FOOD?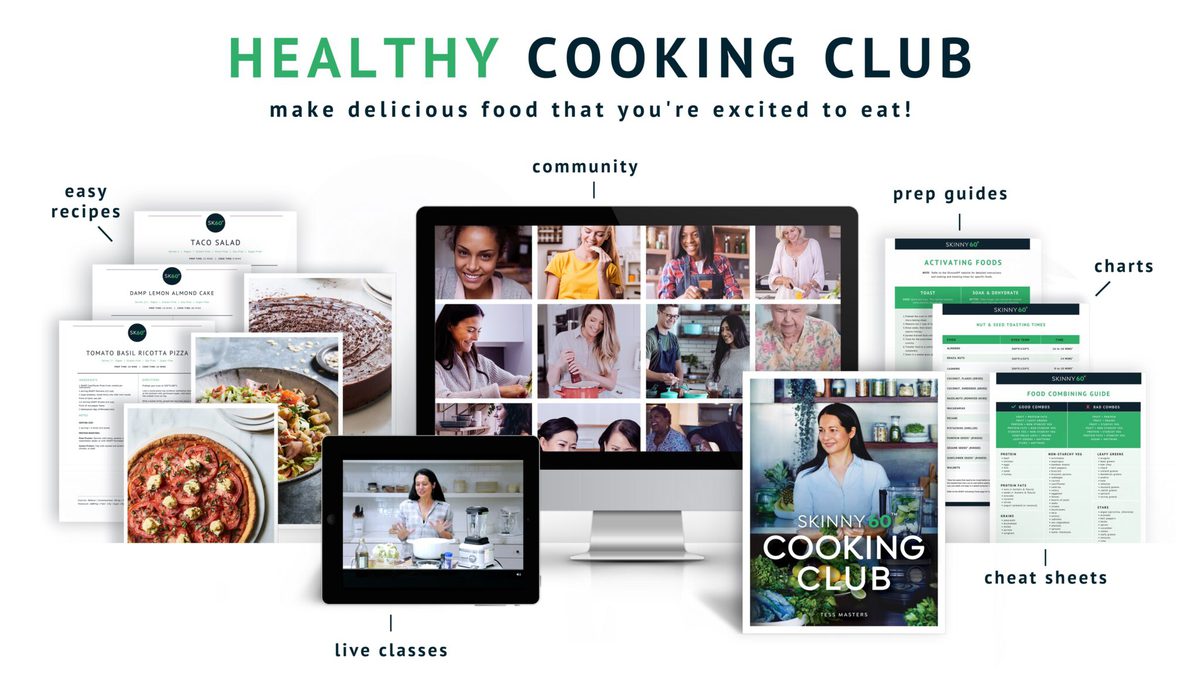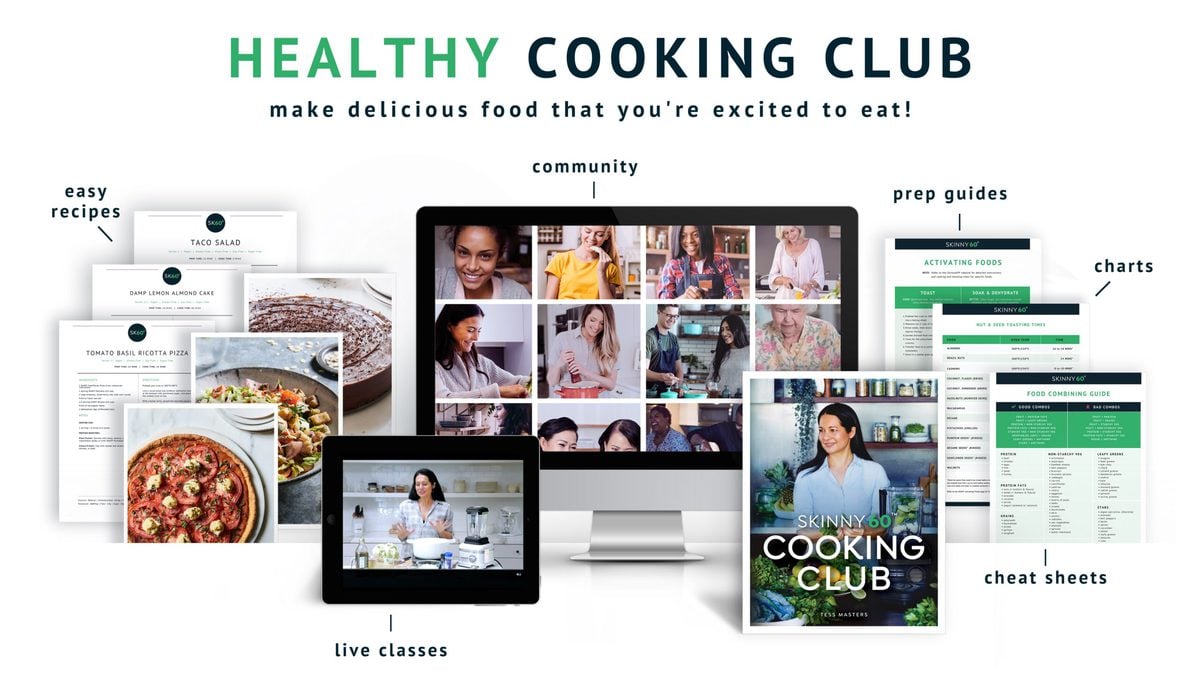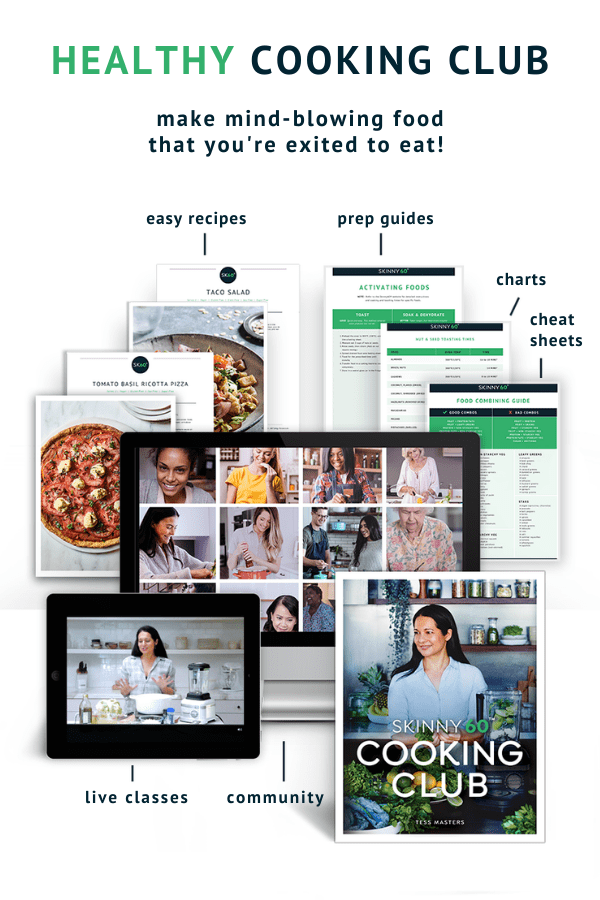 Learn how to use healthy ingredients.
How to prep and store foods

to save time and maximize freshness.

How to pair ingredients

for fabulous flavor and presentation.
How to make healthy meals

that you and your family will love.

How to modify family favorites

to make healthier choices that are still fun! 
HERE'S WHAT WE'RE COOKING...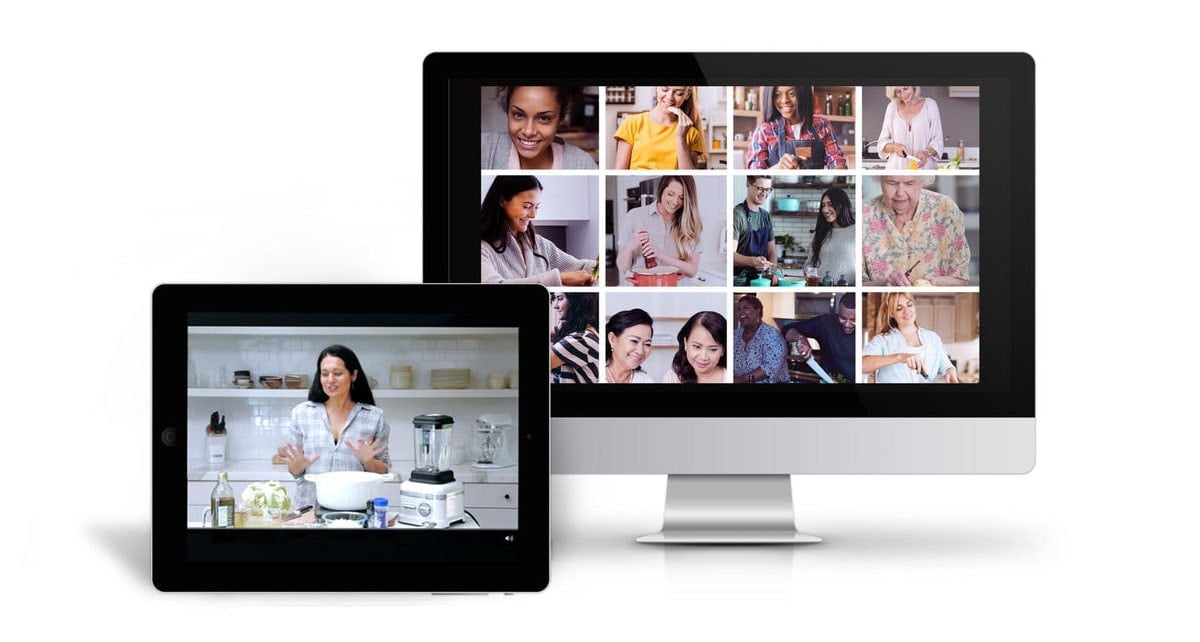 BONUS #3

Interviews with Health Experts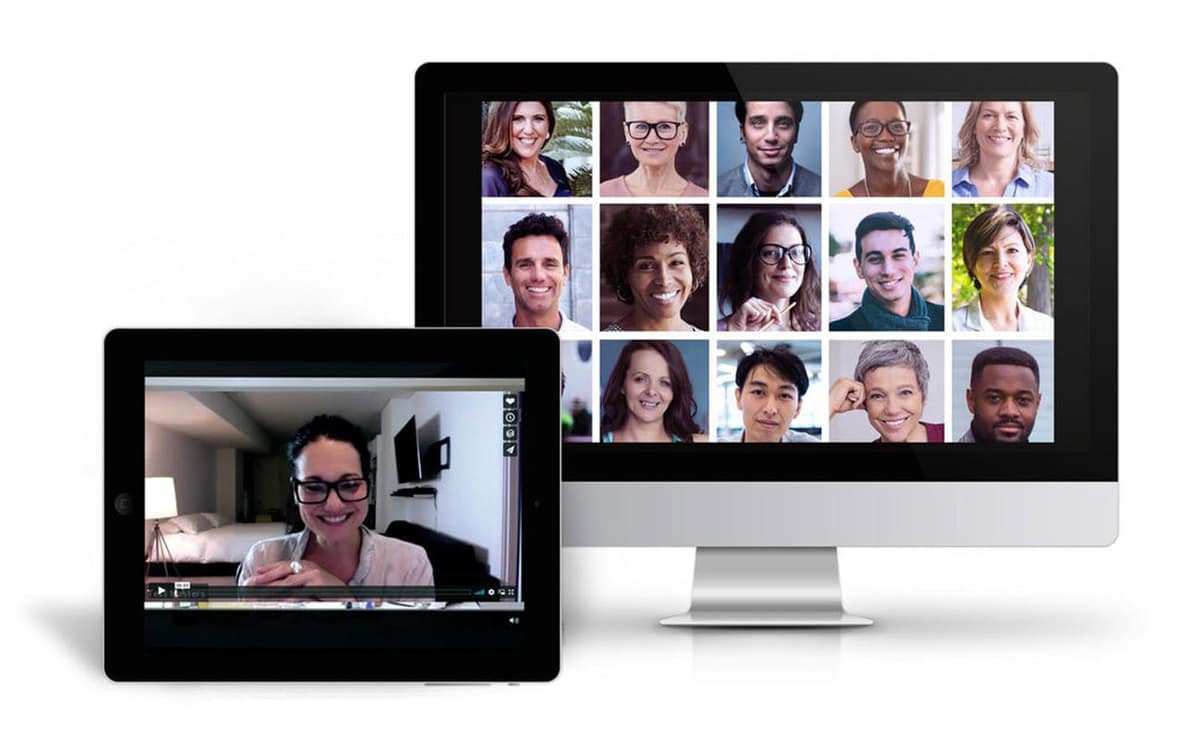 WHAT'S IN THE COOKING CLUB: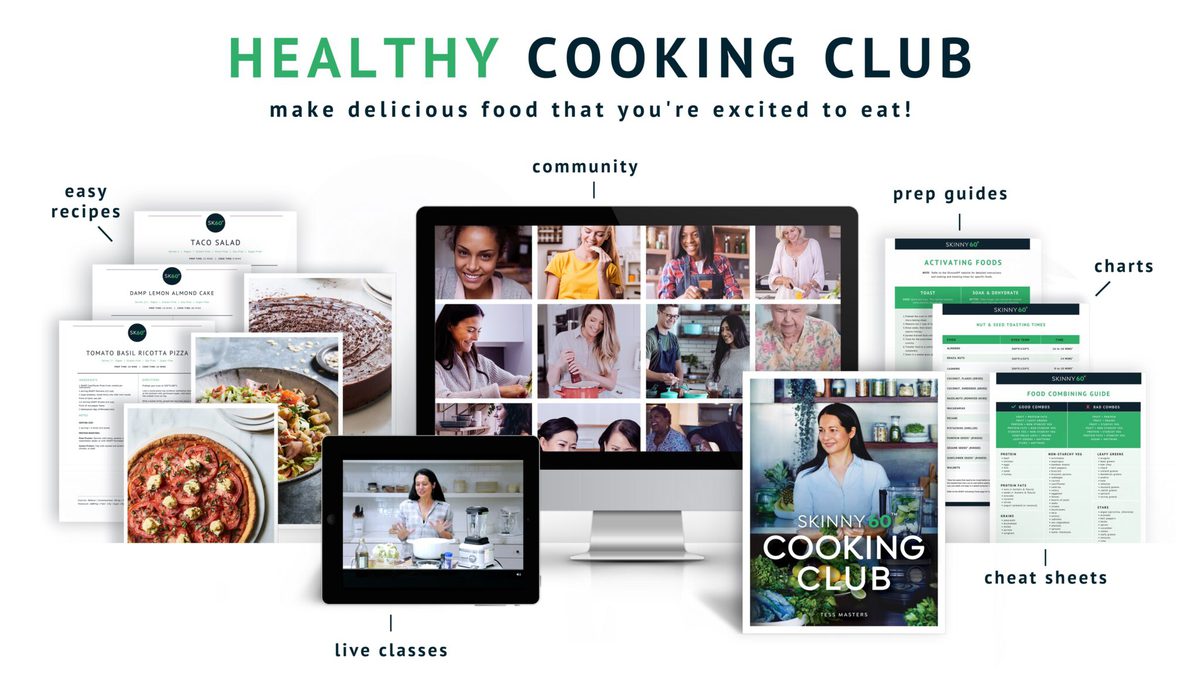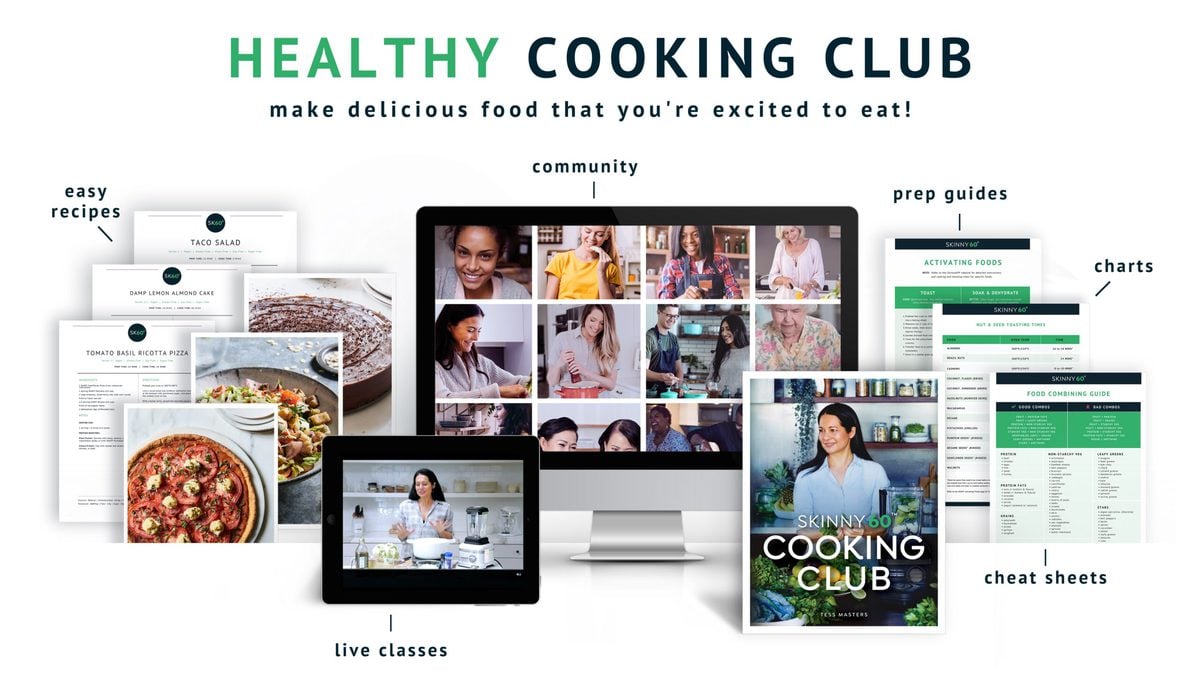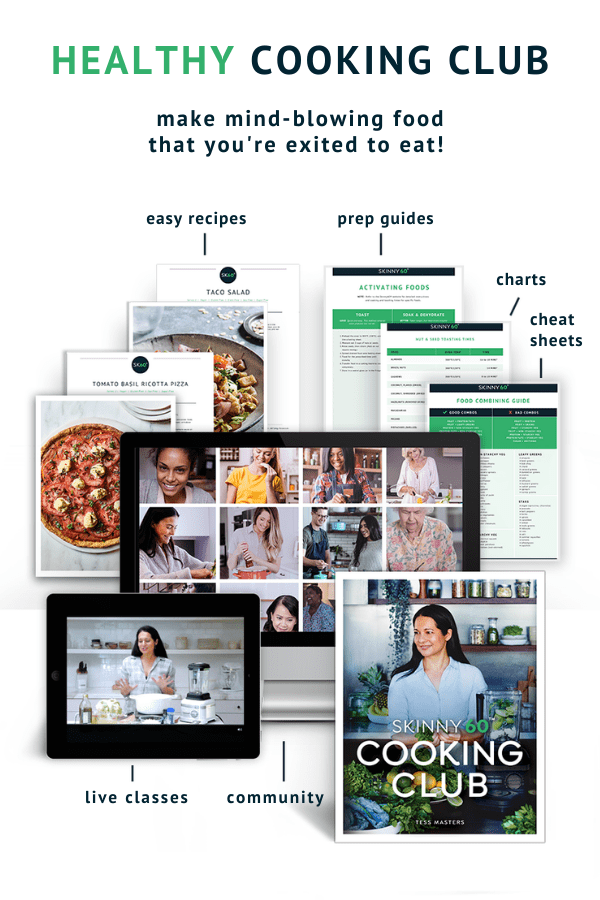 Delicious recipes analyzed by dietitians to support better health.

All of the recipes are:
plant-based (dairy-free, egg-free)
gluten-free
soy-free
sugar-free
Supplement the recipes with plant or animal protein. 
Recipe Cards
Healthy Foods Lists
Ingredient Guides
Food Combining Guide
Soaking and Sprouting Guide
Toasting Nuts, Seeds, & Grains
Homemade Nut Milks Guide
Weekly Video Cooking Classes (LIVE)
Wellness Interviews
Email Support
Facebook Group
What's included in the Cooking Club membership?
Your membership to the Cooking Club includes: Access to live cooking classes with Tess. You cook the same recipe at the same time with her and fellow participants around the world. You also get access to the recordings of all previous classes. You get all SK60® Club recipes; recipe cards and cooking cheat sheets; access to the wellness interviews with doctors, dietitians, and authors; and access to the SK60® private Facebook community. You can connect with Tess and other members to ask questions, and share your recipes and photos.
How soon after purchasing will I receive access?
Upon purchasing, you will receive an email with login credentials to the SK60® website. After signing the member agreement, we will activate your membership, and you will have full access all of the recipes, videos, and written materials.
What will I learn?
With the SK60® Cooking Club, you'll learn:
The best foods to eat for better health, energy, and weight loss.

How to combine foods to improve digestion, beat the bloat, reduce gas and acid reflux, and lose weight. 

How to cook easy healthy meals. 

How to select, store, and prep healthy ingredients.

How to pair ingredients and layer flavors.

How to modify family favorites to make healthier choices that are fun. 

How to change your eating habits.
How do I know if the Cooking Club is right for me?
If you want to learn how to cook with fresh ingredients, and make easy healthy meals that taste really delicious, the Cooking Club is for you! If you want to improve your cooking skills or get new tasty recipes, the club is for you. If you need sugar-free, plant-based recipes that have been vetted by registered dietitians, the club is for you. If you want to learn cooking techniques the club is for you. If you want to learn about nutrition, and how to use food as a functional tool for better health, the club is definitely for you. If you want to cook with Tess live, ask her questions, the club is great for you. And, if you want to join a community of supportive people wanting to be healthy and enjoy fabulous food, the club is perfect for you.
How much does the club membership cost?
You get access to the SK60® Cooking Club today for the price of US$19.99 per month OR US$199 per year. Upon joining, you get immediate access to all club materials.
What is your refund policy?
We want to help you reach your goals and have fun. So, we have a 14-Day Money-Back Guarantee. If you join a class and the Cooking Club isn't for you, contact us within the first two weeks of your membership start data, and we will issue a full refund.
Can I cancel my membership?
Yes. When you join monthly, you can cancel at any time with 30 days notice. If you sign up and commit to a yearly membership to save $40, you can cancel your next annual membership with 30 days notice. NOTE: If you cancel your membership, your access to all club materials will finish at the end of your current 30-day cycle.
Will the membership fees change?
As long as you maintain an active membership, the fee (yearly or monthly) you paid when you signed up will be honored, and when prices increase, your fees will not be affected.
When are the live video classes?
At present, the video cooking classes with Tess take place every Tuesday evening at 5PM (Pacific Standard Time). Most of the community live in North America. But, we  do have members that reside in Asia, Australia, and New Zealand, and cook in the morning with us. We also have members from Europe who watch the recordings.  
What if I can't join a class live?
If you can't join a class live, a recording of every call is posted on the SK60® website. All current members have access to all previous classes and recipes in the archives.
What kinds of recipes are included?
We will be making main dishes, as well as soups, salads, desserts, snacks, and condiments you can add to your repertoire.
All of the recipes are:
plant-based (dairy-free, egg-free)
gluten-free
soy-free
sugar-free (diabetic-friendly)
All of the recipes are vegan/vegetarian. There are notes for supplementing the recipes with clean animal protein, if you desire.
Are the recipes family-friendly?
Absolutely! Many members share the recipes with their partner. And, the recipes are family-friendly! Many dishes such as the mac and cheese, bolognese, stroganoff, risotto, crackers, brownies, chocolate pudding, and smoothies are really popular with kids so you can teach them healthy habits, too.
How much will the groceries cost?
Once your kitchen is set up with the pantry staples (olive oil, apple cider vinegar etc) that are used repeatedly in the recipes, the cost of the ingredients will vary each week depending on the recipe and what dry goods you have on hand. On average, we estimate the cost of the ingredients to be about $25 per week.
What kitchen equipment do I need?
All of the recipes contain both metric and imperial measurements, and ingredients are prescribed in cups and spoons. You will need measuring cups and spoons and knives. You will also need a blender to make many (not all) of the recipes. Because we blend a lot of nuts and seeds, an immersion blender is not sufficient to achieve a smooth consistency. To make food prep faster, a food processor is also helpful, but not completely essential. Beyond that, there is no specialty equipment that is required to make the recipes.
What if I can't get an ingredient?
There are notes for ingredient substitutions to support flexibility, and to guide your ability to tweak recipes according to your taste preferences, budget, to accommodate food intolerances and allergies, or to allow you to still make the recipe when you can't source an ingredient. NOTE: There will be instances when there is a not a viable substitution. Post your question under the recipe on the website, and Tess will respond to you promptly.
Is there nutrition data for the recipes?
Yes, nutrition data is provided for every recipe: calories, protein, carbohydrates (sugar, fiber), fat, sodium, potassium, calcium, and iron. We use the USDA food database, and all recipes have been analyzed by our registered dietitians, and designed with good nutrient balance to support better health and weight loss.
What about special diets?
The recipes are nutrient-dense, contain whole plant foods, healthy plant-based fats, and contain no added sugars. So, generally, the recipes are suitable for diabetics and those on sugar-free diets. The recipes also adhere to most heart-healthy and low cholesterol diets. Almost all of the recipes are grain-free, except for a few recipes that contain quinoa. Almost all of the recipes are paleo- and keto-friendly. For those following a FODMAP diet, the Cooking Club is not suitable. While most of the FODMAP foods are not included on the program, we do use vegetables on the "no" list extensively such as: onions, garlic, cabbage, broccoli, cauliflower, asparagus, leeks, celery, Brussels sprouts, and mushrooms.
What if I have food allergies?
The recipes are FREE FROM: milk, eggs, fish, crustacean shellfish, peanuts, wheat and soy. However, we DO USE use a lot of nuts and seeds such as almonds, walnuts, pine nuts, sunflower seeds, pumpkin seeds, hemp seeds, chia seeds, and flax seeds. Cashews are not used. But, we do use a lot of almonds. Other foods that are used extensively are: coconut, avocado, cauliflower, zucchini, berries, and leafy greens. Almost all of the recipes are grain-free, except for a few that contain quinoa. In these instances, you can substitute cauliflower rice. Tess will suggest substitutions wherever possible; and in some instances you can substitute the nuts for other foods. But, if you have a nut allergy, there will be recipes that you can't make.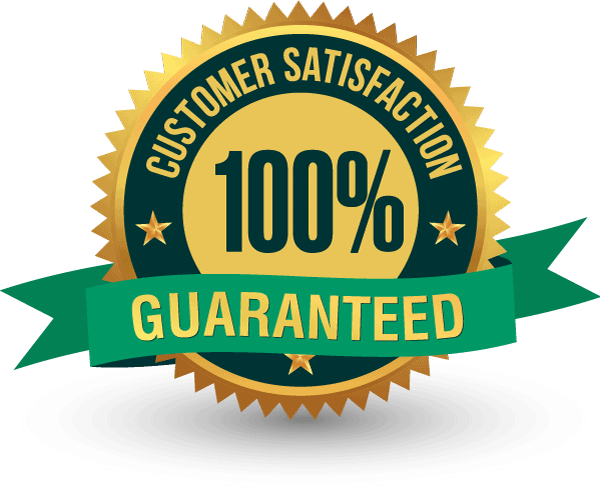 We want you to have fun! So, we have a 14-Day Money-Back Guarantee.
If you join a class, and it isn't for you in the first two weeks, contact us, and we will issue a full refund.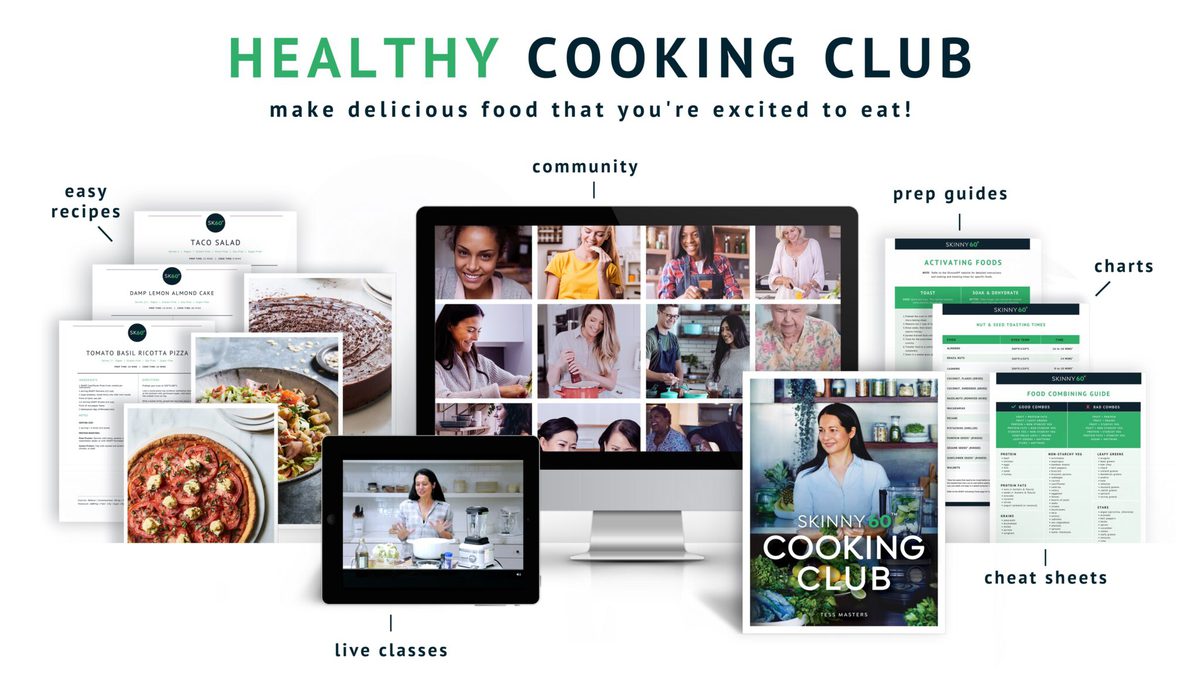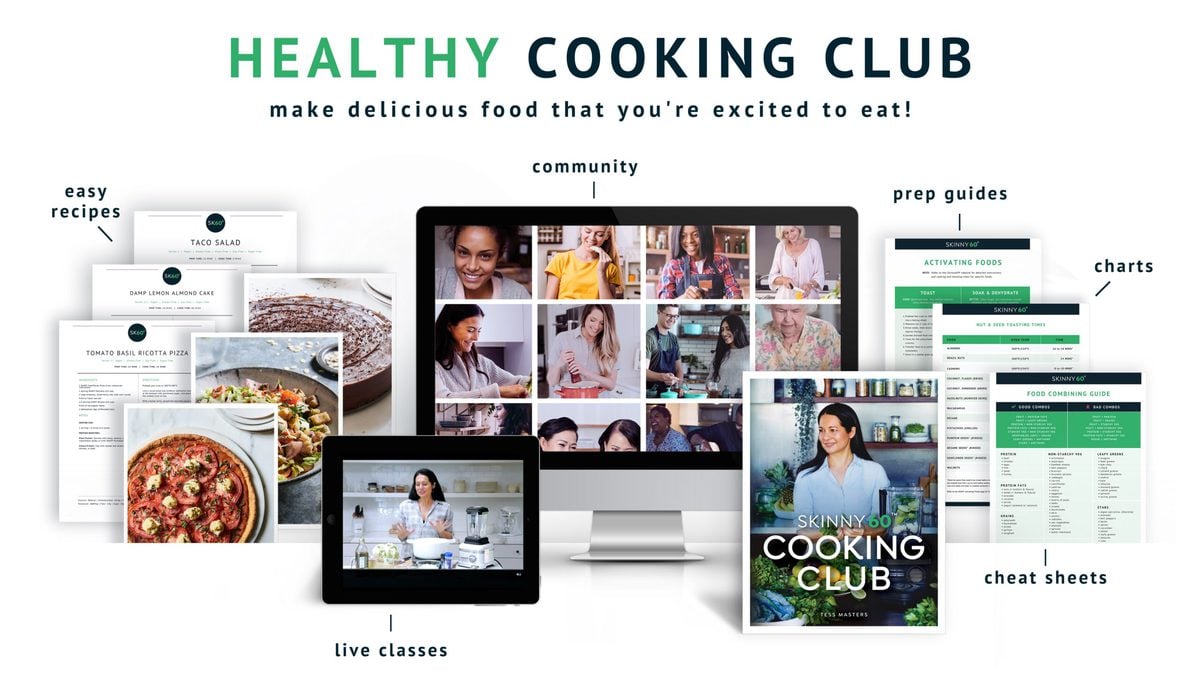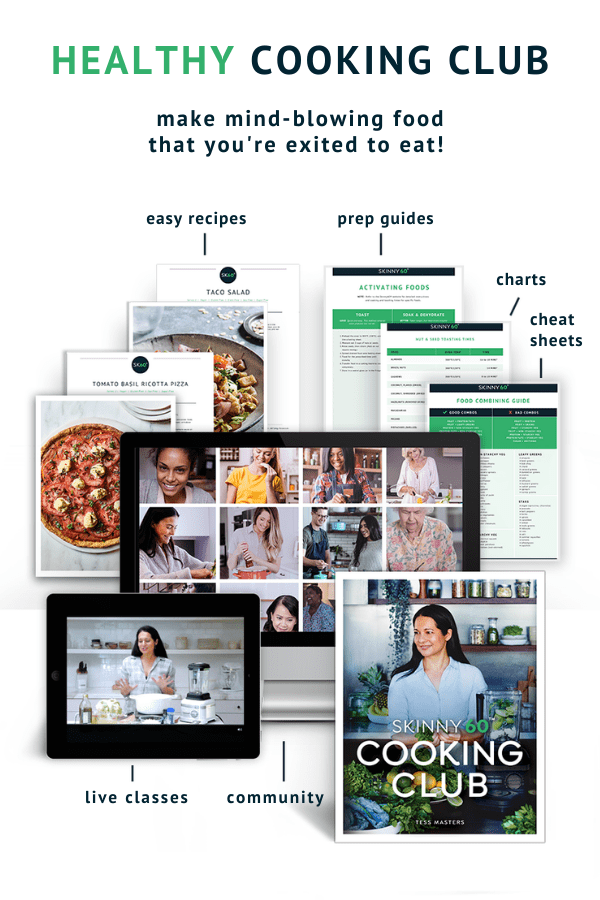 READY TO COOK LIKE A PRO?