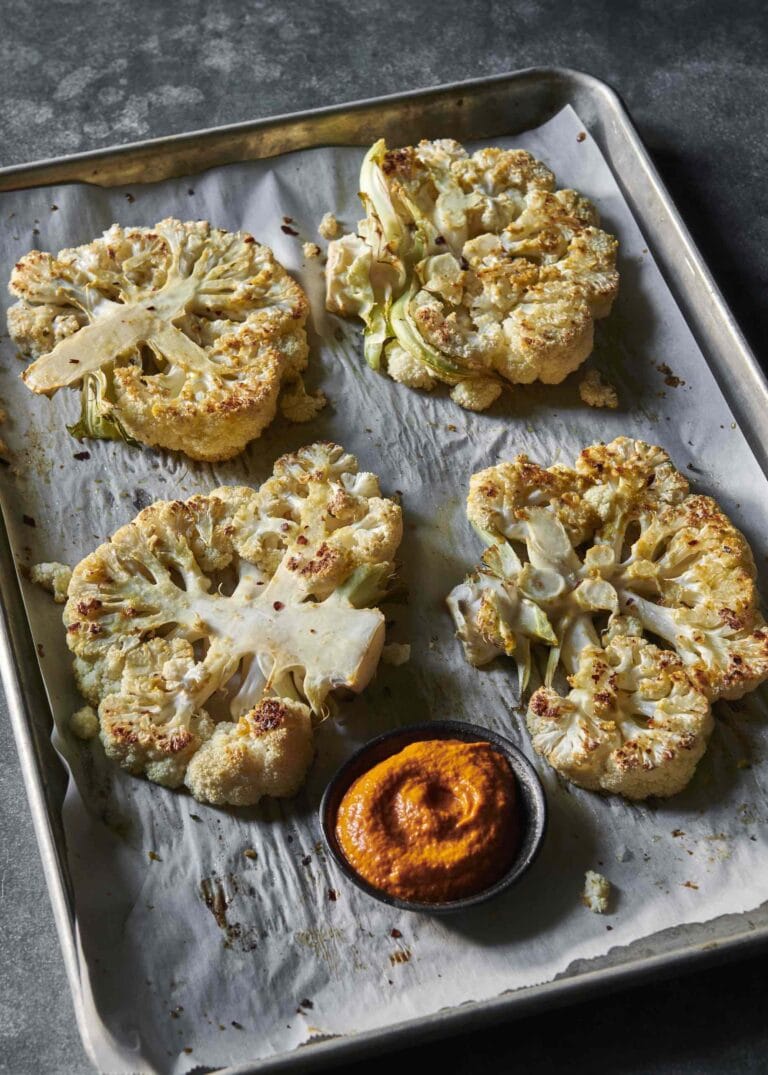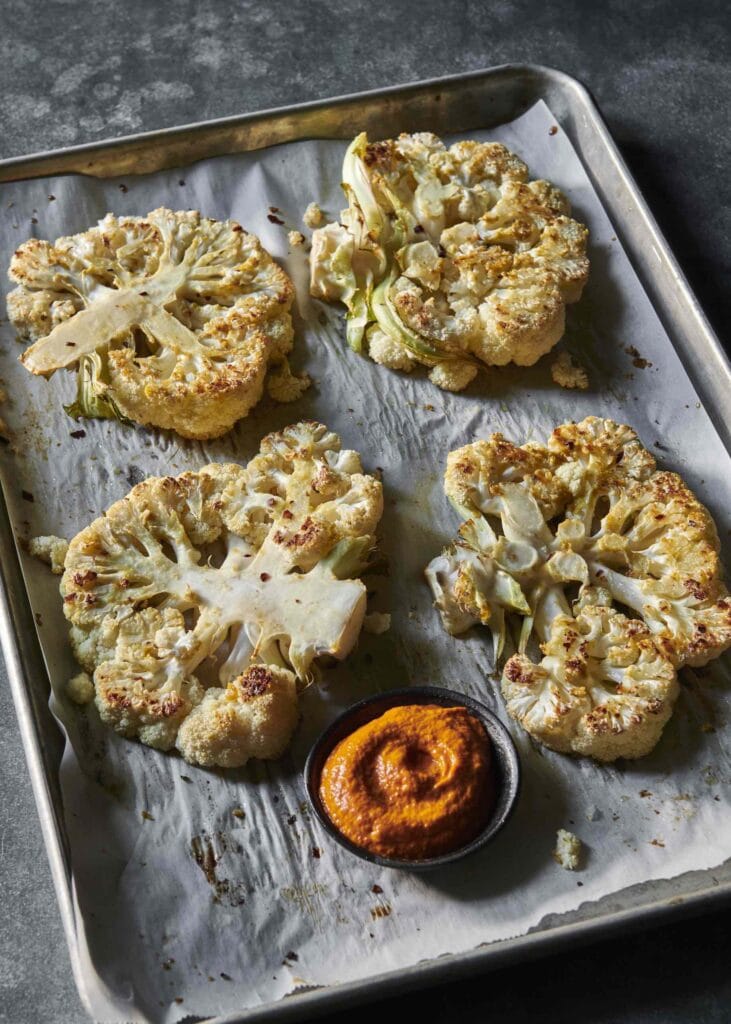 Cauliflower Steak with Roasted Red Pepper Sauce
For an easy, versatile, and  "stick-to-your-rubs" vegetable dish, you can't beat roasted cauliflower "steaks". Plain roasted cauliflower has a delightful flavor, and it doesn't take much to kick the flavors up to  "Wow!" I've kept these "steaks" lean on seasonings so they will soak up the flavors of the Roasted Red Pepper Sauce. Garnish with chopped flat-leaf parsley, basil, and chives for fabulous flavor and gorgeous presentation. Cook your steaks to your preferred texture. Roast for less time for a firm steak, or longer for a more tender bite! To transform this side dish into a magic meal, serve with other roasted, steamed, or sautéed veggies; and garnish with some nuts or seeds, or serve with grilled animal protein.
Download Recipe Card
Instructions
Prepare the Cauliflower Steak according to the recipe instructions.

Prepare the Roasted Bell Pepper Sauce according to the recipe instructions.

On a large plate, place the Cauliflower Steak, and drizzle with the Roasted Bell Pepper Sauce or serve it on the side.
Notes
NOTE:
This is a nested recipe - it contains other SK60® recipes. In order to calculate the nutrition data accurately on Living Plate® you must drag the SK60® Cauliflower Steaks and SK60®

Roasted Bell Pepper Sauce

recipes onto your meal plan under this recipe.
PROTEIN BOOSTERS:
Check the protein content of the core recipe, review your protein needs, then refer to the SK60® Protein Boosters cheat sheet for the appropriate portion size.
Plant Protein:
Garnish with hemp seeds, white sesame seeds, pumpkin seeds, sunflower seeds, raw sliced almonds, blanched slivered almonds, or pine nuts. 
Animal Protein:
Serve with cooked fish, chicken, turkey, beef, or eggs. 
FOOD COMBINING:
Combines well with animal protein, protein fats (nuts and seeds), leafy greens, non-starchy vegetables, starchy vegetables, sea vegetables, quinoa (or other grains), or any of the Magic Foods (that combine well with any foods). Does not combine well with fruit. Refer to the FOOD COMBINING page and the SK60® Master Food Combining cheat sheet.
Nutrition
Calories:
243
kcal
|
Carbohydrates:
14
g
|
Protein:
5
g
|
Fat:
19.5
g
|
Saturated Fat:
2.6
g
|
Sodium:
656
mg
|
Potassium:
593
mg
|
Fiber:
4
g
|
Sugar:
7
g
|
Calcium:
137
mg
|
Iron:
2
mg