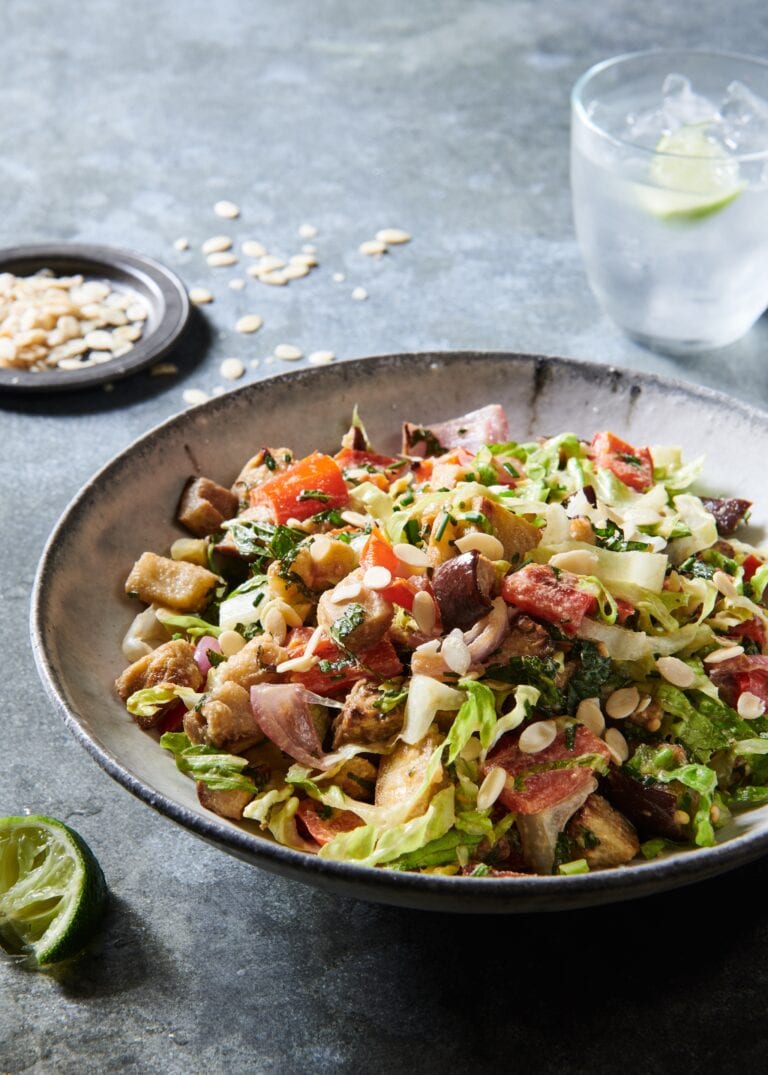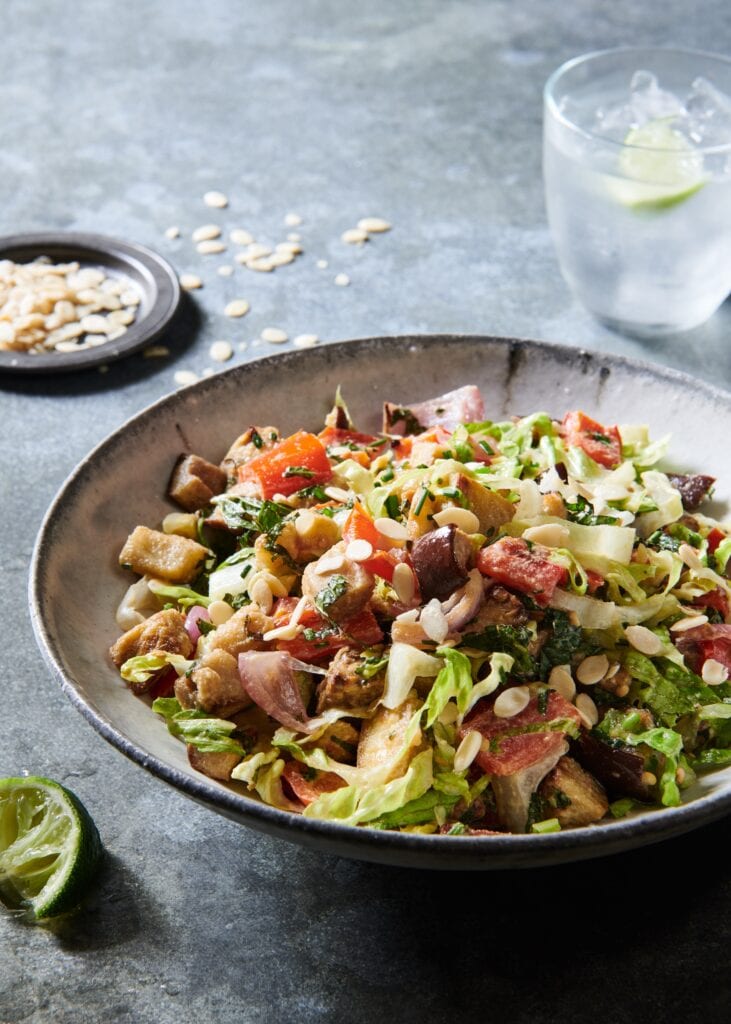 Asian Eggplant Salad
Ingredients
Vegetables
6

cups (490g)

cubed eggplant

(1-inch pieces; see Notes)

2

cups (280g)

roughly chopped red bell pepper

(1-inch pieces; see Notes)

2 

cups (280g)

roughly chopped red onion

(1-inch pieces; see Notes) 

1/4

cup (60ml)

extra-virgin olive oil

1/4

teaspoon (1.5g)

Celtic sea salt

2

cups (125g)

shredded romaine

(see Notes)

1/4

cup (10g)

finely chopped fresh mint leaves

(see Notes)

2

tablespoons (6g)

finely chopped chives

(see Notes)

1/4

cup (35g)

blanched slivered almonds

(see Notes)
Instructions
Preheat the oven to 400°F/200°C.

Line a large rimmed baking tray (or two small ones) with parchment paper or a silicone liner.

In a large bowl, toss the eggplant, bell pepper, and onions with the olive oil and the salt, and spread out in a single layer on the prepared baking tray. Place in the middle rack of the oven, and roast for about 30 minutes, until the vegetables are cooked through, and the eggplant is soft and golden. Remove from the oven and allow the vegetables to cool.

To make the dressing, throw all of the dressing ingredients into your blender, and blast on high for 30 to 60 seconds until the ingredients are pulverized, and the mixture is emulsified. You should have about 3/4 cup (180ml) of dressing. 

If serving immediately: In a large bowl, add the roasted vegetables with the romaine, mint, chives, and blanched almonds. Add the dressing, and toss gently until evenly coated. 

If serving later: Hold off on shredding the romaine lettuce, and do not assemble the salad. Store the roasted veggies and dressing in two separate sealed containers for up to 5 days. Right before serving, shred the romaine lettuce, and combine with the other ingredients right before serving. 
Notes
EGGPLANT:
You will need about 1 medium eggplant. 
RED BELL PEPPER:
You will need about 2 medium bell peppers. Substitute with orange or yellow bell peppers. 
RED ONION:
You will need about 1 medium red onion. Substitute with yellow onion. 
ROMAINE:
You will need about 1 romaine lettuce heart. Do not shred if not serving the salad immediately. Substitute with 2 firmly packed cups of arugula, mixed lettuce, or shredded baby spinach. 
MINT AND CHIVES:
Do not use dried herbs in this recipe.
BLANCHED SLIVERED ALMONDS:
Substitute with sliced hemp seeds, sunflower seeds, or pumpkin seeds.  
RICE VINEGAR:
Purchase unseasoned rice vinegar made simply with rice and water without added sugar and salt.
SAFFLOWER OIL:
For the best flavor, use safflower oil. Substitute with expeller-pressed grapeseed oil or light extra-virgin olive oil. 
LEMONGRASS
: To use fresh lemongrass, remove the tough outer layers, and cut off the ends. Slit the stalk lengthwise, smash the stalk halves with a heavy knife or meat tenderizer to release the oils and fragrance, and then finely chop. Minced lemongrass freezes really well. Store it in a sealed container and use as needed. Watch the instructional video on the TUTORIALS page. 
SK60® APPROVED SWEETENER:
Review the Sweeteners Brief on the STAPLES & PREP page. 
#1: Use 2 teaspoons of a sweetener with a 1:1 substitution ratio for cane sugar. 
#2: Use 16 to 20 drops of alcohol-free liquid stevia, plus more to taste.
PROTEIN BOOSTERS:
Check the protein content of the core recipe, review your protein needs, then refer to the SK60® Protein Boosters cheat sheet for the appropriate portion size.
Plant Protein:
Garnish with hemp seeds, raw white sesame seeds, sunflower seeds, pumpkin seeds. Or, serve with SK60® Bread or Vegan Almond Crackers. 
Animal Protein:
Serve with grilled fish, chicken, turkey, or beef.
FOOD COMBINING:
Combines well with other protein fats (nuts and seeds), animal protein, leafy greens, non-starchy vegetables, sea vegetables, or any of the Magic Foods (that combine well with any foods). Does NOT combine well with fruit, quinoa (or other grains), or starchy vegetables. Refer to the FOOD COMBINING page or the SK60® Master Food Combining cheat sheet.
Nutrition
Calories:
347
kcal
|
Carbohydrates:
21
g
|
Protein:
5
g
|
Fat:
29
g
|
Saturated Fat:
3.3
g
|
Sodium:
583
mg
|
Potassium:
686
mg
|
Fiber:
8
g
|
Sugar:
11
g
|
Calcium:
65
mg
|
Iron:
2
mg