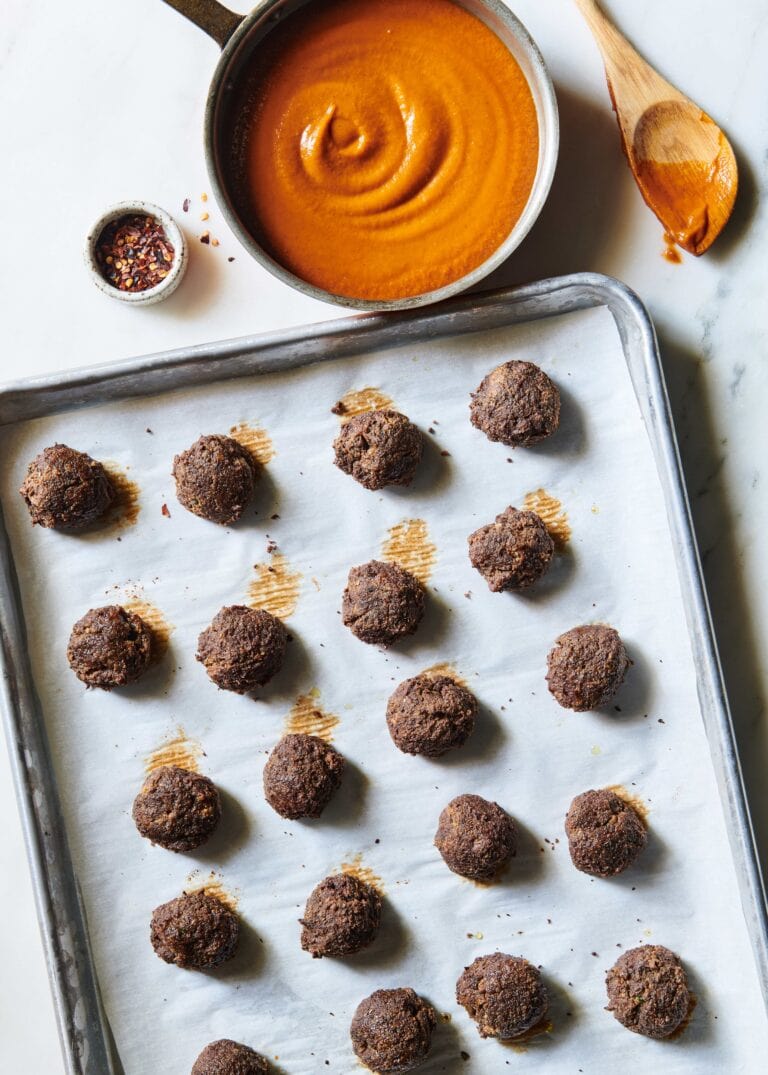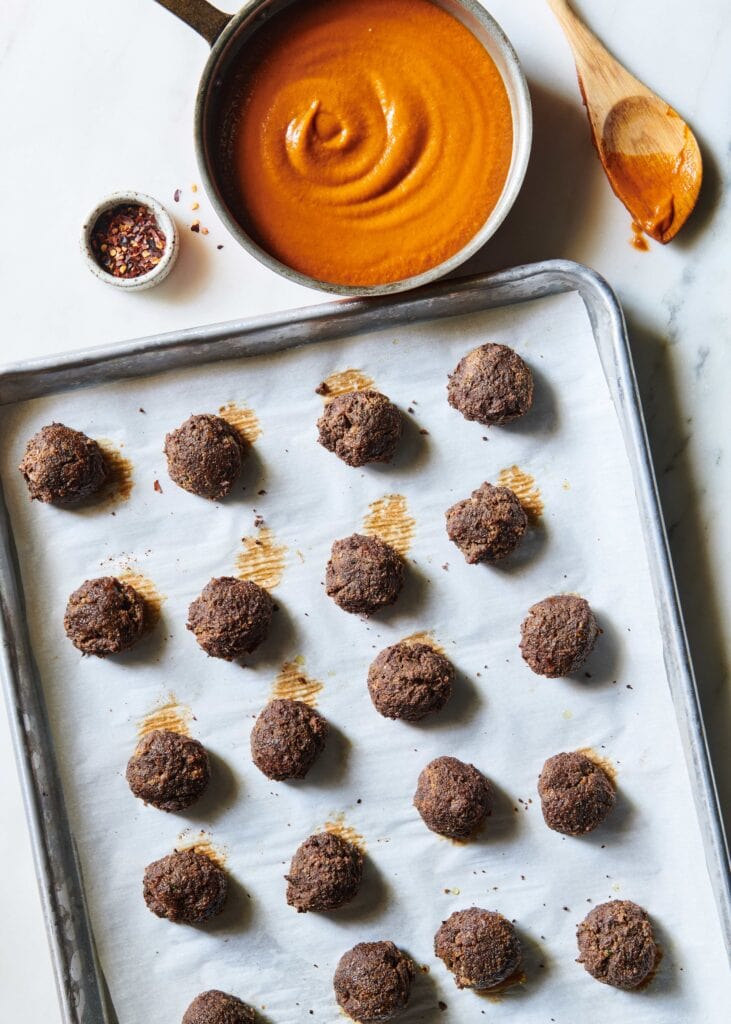 Veggie Balls
Servings:
4
(makes 20 balls)
Instructions
In a medium bowl, add the walnuts, and cover with room temperature filtered water, Soak for 2 to 4 hours, and then drain. (Alternatively, quick-soak activated walnuts with boiling water for 10 minutes, and then drain. See the Notes.)

Make the flax egg: In a small bowl, whisk the filtered water and flax meal together until well combined. Set aside for 5 minutes, and then whisk again. Allow this mixture to sit for at least 15 minutes until you have thick gel.  

Preheat the oven to 350°F (180°C), and line a baking sheet with a silicone sheet or parchment paper.

Pat your drained walnuts dry to remove any excess moisture (or your mixture may be too wet). Then, place the walnuts into a food processor fitted with the s blade, and pulse until finely ground. (You do not want chunks of walnuts or your veggie balls will be crunchy.) Add the blanched almond flour, mushrooms, red onion, parsley, nutritional yeast, Italian seasoning, tomato paste, balsamic vinegar, mustard, garlic powder, salt, lemon juice, and red pepper flakes. 

Add the flax egg, and process the mixture until it is well combined and the consistency of pâté. (You may have to stop your food processor, and scrape down the sides of the container and under the blades to ensure your mixture combines evenly.)

Using a tablespoon measurer, scoop out the mixture, and with your hands, roll into 20 equal-sized balls. (The mixture will feel wet, but it will hold together when cooked.) 

Transfer the balls to the prepared baking sheet. Using a pastry brush, gently glaze each veggie ball with a tiny amount of olive oil. (Alternatively, spray them with cooking spray.)

Bake for 15 minutes. Then, brush or spray again with oil. Bake for a further 15 minutes, until cooked through, slightly browned, and firm on the outside. Allow the balls to cool on the tray for 5 to 10 minutes before using. 

Serve out one portion (5 veggie balls), and transfer the remaining balls to a sealed container in the fridge for up to 5 days or in the freezer for up to 3 months. 
Video
Notes
YIELD: Makes 20 Veggie Balls.
SERVING SIZE: 1 serving = 5 Veggie Balls. 
WALNUTS: To support better digestion, long-soak your walnuts for 2 to 4 hours. But, seeing as the burgers will bake and the nuts will get toasted to remove some of the enzyme inhibitors, you could save time and quick-soak them. Do not skip the soaking and use dry walnuts in this recipe as you do need moistened walnuts to hold the mixture together. 
FLAX MEAL: Use brown or golden flax meal. 
BLANCHED ALMOND FLOUR: You will get a better result with blanched almond flour. But, you can substitute whole almond flour/meal. 
CREMINI MUSHROOMS: Substitute with white button mushrooms or shiitake mushrooms. 
RED ONION: Substitute with yellow onion. 
SERVING SUGGESTIONS: Make the SK60® Veggie Balls with Marinara Sauce with other SK60® sauces or non-starchy vegetable sides. 
PROTEIN BOOSTERS: Check the protein content of the core recipe, review your protein needs, then refer to the SK60® Protein Boosters cheat sheet for the appropriate portion size.
Plant Protein: Garnish with hemp seeds or serve with SK60® Cheese Sauce, Garlic Sauce, Aioli, Curry Sauce, Lemon Tahini Sauce, Mayo, Sour Cream, Ricotta, or Ranch Dressing. Or serve with SK60® Bread (1-slice serving)or Vegan Almond Crackers. 
Animal Protein: Serve with grilled beef, chicken, turkey, fish, or cooked eggs. 
FOOD COMBINING: Combines well with other protein fats (nuts and seeds), animal protein, leafy greens, non-starchy vegetables, sea vegetables, or any of the Magic Foods (that combine well with any foods). Does NOT combine well with fruit, quinoa (or other grains), or starchy vegetables. Refer to the SK60® Master Food Combining cheat sheet.
Nutrition
Calories:
266
kcal
|
Carbohydrates:
14
g
|
Protein:
9
g
|
Fat:
20.8
g
|
Saturated Fat:
1.5
g
|
Sodium:
646
mg
|
Potassium:
482
mg
|
Fiber:
4
g
|
Sugar:
4
g
|
Calcium:
55
mg
|
Iron:
1
mg